Brick & Mortar Melts Down as Ecommerce Jumps by Most Ever
Brick & Mortar Melts Down as Ecommerce Jumps by Most Ever by Wolf Richter for Wolf Street
Department stores get crushed one by one.
Ecommerce sales in the third quarter 2019 spiked 17.3% from a year ago to $145.7 billion, not seasonally adjusted, according to the Commerce Department. On a seasonally adjusted basis, sales hit $154.5 billion. Ecommerce sales will exceed $600 billion in 2019, double the amount five years ago. In dollar terms, ecommerce sales jumped by $20.4 billion in Q3 compared to a year ago, the biggest dollar-jump in the history of ecommerce: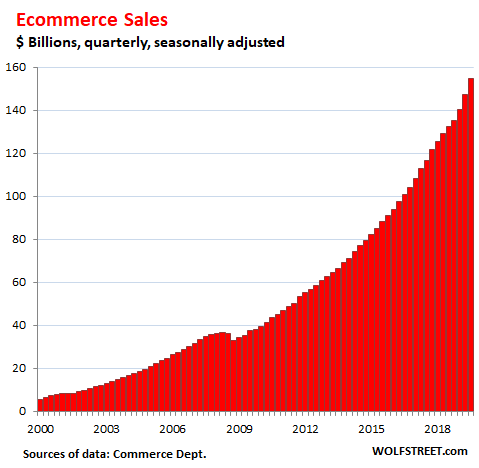 Ecommerce sales include the ecommerce operations of brick-and-mortar retailers, many of which have built thriving online operations: Among the top 10 ecommerce retailers, behind Amazon and eBay, are the online divisions of seven brick-and-mortar retailers, according to eMarketer, in that order: Walmart, Apple, Home Depot, Best Buy, Macy's, Qurate Retail Group (QVC, HSN, Zulily, Ballard Designs, Frontgate, Garnet Hill, and Grandin Road), Costco. The 10th in the top ten is Wayfair, an ecommerce retailer.
Walmart, after ignoring the threat of Amazon for years, is now throwing everything at it, including numerous acquisitions and building out its own ecommerce brand and fulfillment infrastructure. Despite many costly flops, its ecommerce sales have been soaring, including by 41% year-over-year in Q3.
Walmart will disclose the dollar amounts of its Q3 ecommerce sales in its upcoming 10-Q filing with the SEC. So we don't know yet the exact amount. But in its 10-Q for the second quarter, Walmart reported ecommerce sales at its Walmart US division of $4.8 billion. So for Q3, given the 41% year-over-year growth, ecommerce sales at Walmart US were over $5 billion. But with Walmart US revenues rising by only $2.7 billion (to $83 billion), most of that growth came from ecommerce, and growth at its brick-and-mortar stores was anemic.
At its Sam's Club division, revenues ticked up only 0.7% to $14.6 billion. But Sam's Club's ecommerce sales grew 32%, so Sam's Club's brick-and-mortar sales likely fell.
Every retailer that is trying to stay relevant is spending enormous amounts on building out their ecommerce business and fulfillment infrastructure. Walmart is way behind the curve, but catching up. Others weren't as far behind.