Gold Leads, Will the Rest Follow?
Gold Leads, Will the Rest Follow? by Matt Geiger for The AU Report
The natural resource landscape has shifted dramatically since the end of 2018. At the time, we were still nursing our wounds from an unexpectedly vicious 2018 and hoping to avoid a repeat performance in 2019. I did speculate that "we may have already exited the bear market as of late December 2018. The nickel price is up roughly 25% YTD, the gold price is up roughly 10% since early December, the TSXV is up 15% since mid-December, and the MJG partnership itself was up 20.5% in January alone."
In hindsight, it looks like we did indeed exit the bear market as of late December 2018. The nickel price is now up 54% YTD. The price of gold is now up 25% since earlier December. The MJG partnership was up 42% in the first half of the year. The major diversified miners have hit 52-week highs within the past 60 days. The major precious metal royalty names have hit either multi-year or all-time highs recently. The same applies to the GDX and GDXJ. These are the types of moves you'd expect to see in a mining bull market.
While other metals such as nickel and iron ore have also seen sharp price increases this year, the stars of the show have been gold and its sister metal silver. In June, the gold price rallied sharply above $1370—breaking through a stiff technical resistance level that had existed since mid-2013. The gold price has since continued its ascent to above $1500 and currently sits at $1505 per ounce. This move has been driven primarily by generalists re-positioning into precious metals after nearly eight years of neglect, though it should be noted that the big Wall Street institutions remain largely on the sideline (as demonstrated by the GLD Inventory to Price ratio often cited in the IKN Newsletter). This lack of Wall Street participation is a positive as far as I'm concerned and indicates that this move may be more sustained that the short-lived, euphoric rally that we experienced in 2016.
The most devastating argument used against owning gold is that the metal sits in a safe deposit box and generates no interest. The opportunity cost of holding gold is too high, argues its critics, given that there are plenty of other safe haven instruments in which to shelter capital and still earn interest. To be fair, this anti-gold stance was the correct call for much of the past eight years.
However, this argument has been flipped on its head over the past nine months due to a global surge in negative-yielding debt. The market value of global negative-yielding debt has surpassed $16 trillion for the first time in history. A staggering 30% of investment grade bonds globally now yield below zero. (This includes government, corporate, and securitized.) As seen in the chart below from Bloomberg, there was virtually no negative-yielding debt as recently as five years ago. This is a very new phenomenon.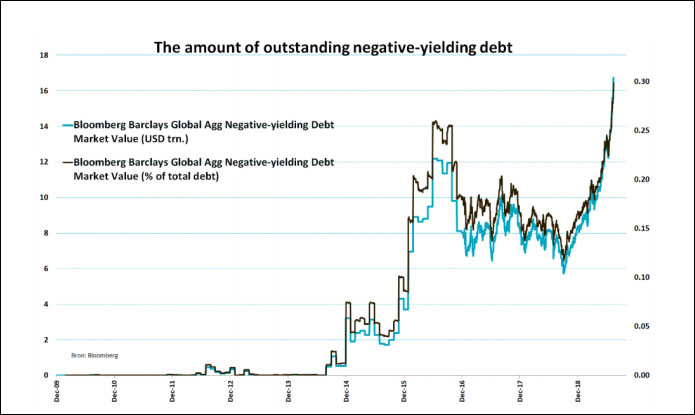 Source: Bloomberg. 1 August 2019. https://www.bloomberg.com/news/articles/2019-08-01/sub-zero-debt-pile-hits-record-14-trillion-as-fed-cuts-rates
This is astounding when you think about it. Why would an investor pay somebody else to hold their money? It simply doesn't pass the smell test. Suddenly, a shiny rock sitting in a safe deposit box paying 0% interest looks very attractive relative to this alternative. The strongest argument against gold has now become the chief justification for owning the metal.
As one would expect in a bull market, silver has outperformed gold over this recent period. It is possible, if not likely, that we saw a peak in the gold to silver ratio at just above 93 in early July. Assuming that this bull market continues apace, we can expect this ratio (now sitting at 85) to trend lower over the months ahead. The historical average during the 20th century was a 47:1 ratio; we have been due for some time for a significant mean reversion.