Used-Car Market Profits from Carmageddon. For Many Americans, New Cars Cost Too Much
Used-Car Market Profits from Carmageddon. For Many Americans, New Cars Cost Too Much by Wolf Richter for Wolf Street
August wholesale auction price index hits record after longest series of year-over-year price gains since 2001.
Used-vehicle prices at wholesale auctions around the US ticked up 1.1% in August compared to August last year, eking out a new record, according to the Used Vehicle Value Index by Manheim, the largest auto-auction house, running about 8 million vehicles through its auctions a year. The index is adjusted for mix, mileage, and seasonality, but not for hurricanes and the dynamics of the new-vehicle market.
In the fall of 2017 and 2018, used-vehicle wholesale prices went through extraordinary spikes, ascribed to the effects of hurricanes that were thought to have destroyed hundreds of thousands of vehicles, which pushed up prices. When those theories turned out to have been exaggerated, prices dropped sharply over the winter in both years: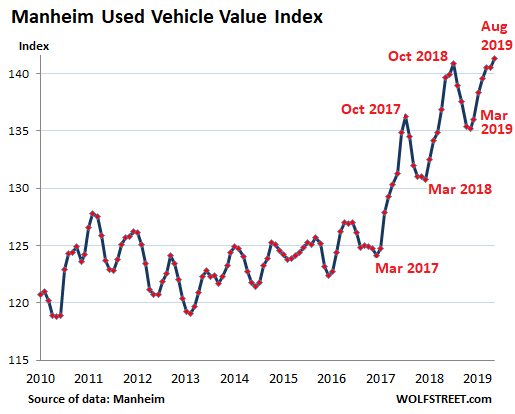 August was the 31st month in a row of year-over-year price gains, the longest such period of year-over-year price gains since April 2001. It beat the 29 months of year-over-year price gains from May 2009 through September 2011 — the period that followed the collapse of the auto industry during the Financial Crisis.
The 2009-2011 price gains were at first powered by the basic bounce-back from the 2008 collapse and then by the "Cash for Clunkers" program that started in July 2009. Cash for Clunkers was supposed to boost new-vehiclesales to help bail out automakers. Congress had appropriated $3 billion in two stages, that were gone in months.
Car buyers were handed this cash to trade in their "clunkers" and buy a new vehicle. The engines of the trade-ins under the program were destroyed and the vehicle went to the salvage yard for parts.
As an unintended consequence, the program destroyed a portion of the most affordable used vehicles – another blow to lower-income car buyers. By removing this supply of affordable cars from the market, Cash for Clunkers caused prices up the entire scale of used vehicles to surge.