Here Are Photos of Some of the Dilapidated Equipment San Francisco Wants to Buy from Bankrupt PG&E for $2.5 billion
Here Are Photos of Some of the Dilapidated Equipment San Francisco Wants to Buy from Bankrupt PG&E for $2.5 billion by Wolf Richter for Wolf Street
Californians have had it with PG&E, a convicted felon infamous for sacrificing safety, maintenance, reliability, and people to enhance "shareholder value." But is San Francisco overpaying? Take a look.
This – the offer made on Sunday – has been kicked around in San Francisco since the catastrophic wildfire in Butte County in Northern California last year that killed 85 people, the cause of which was determined to have been PG&E's electrical transmission lines – how they've not been maintained, including not removing vegetation near them. PG&E is infamous for skimping on maintenance and investment to maximize "shareholder value." PG&E filed for bankruptcy in January, and its shares have collapsed by about 84% over the past two years, a good example of the results of maximizing "shareholder value."
On Sunday, the City announced a plan to bid for PG&E's "assets" in San Francisco for $2.5 billion. These "assets" are poles, power lines, transformers, and other electrical equipment, some of it under ground, some of it above ground, infamously maintained in the manner of PG&E, including this power pole and transformer a few feet from our balcony: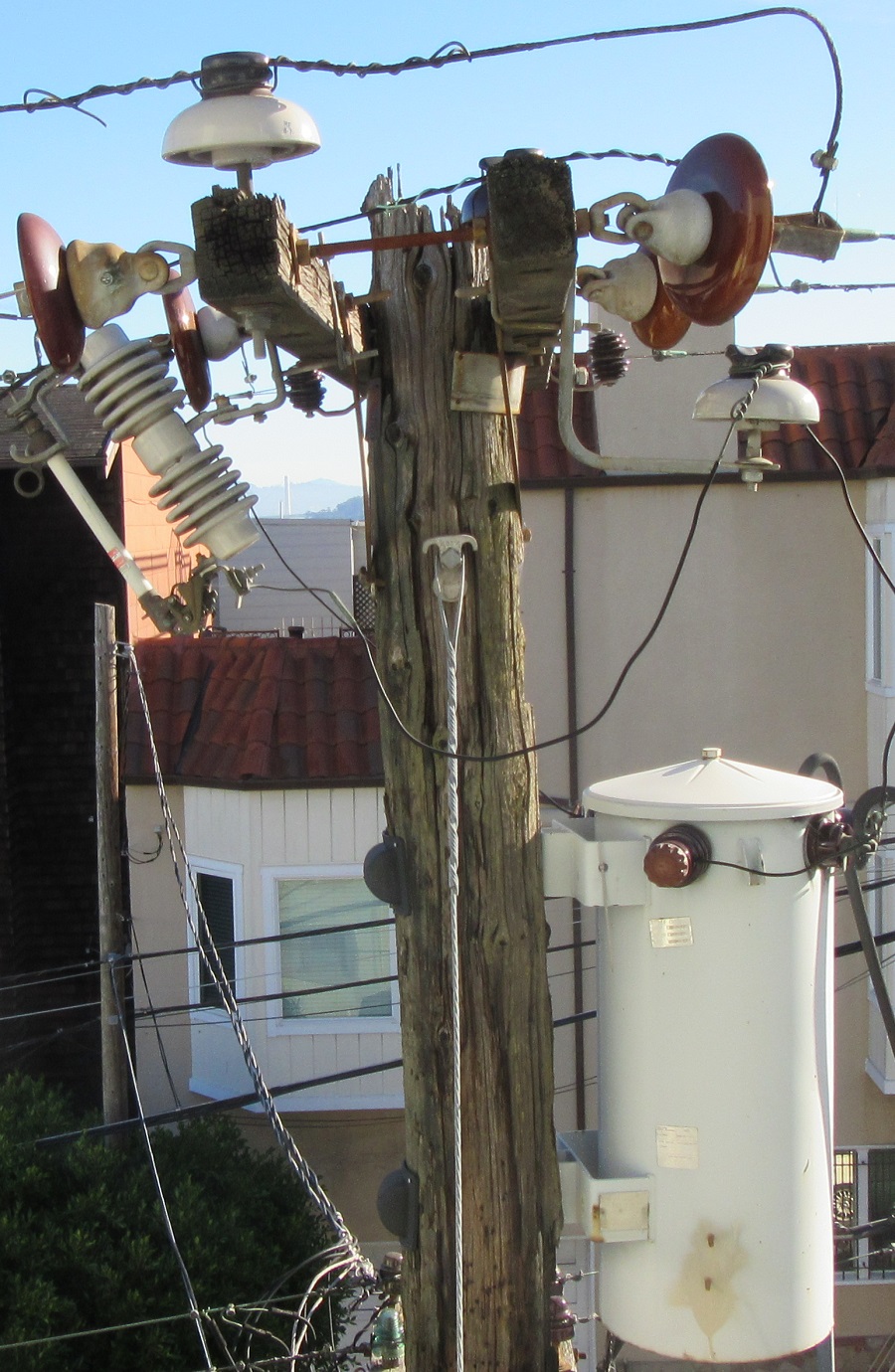 This pole is just an example. Note how the pole is completely rotten, how old the transformer is, and the insulators, and the wires. The pole was placed over 100 years ago, the transformer decades ago. I'll show some additional stunning details in a moment. These types of power poles are all over San Francisco.
As you can tell from the pole, there is no competition in the power transmission business. This is the only set of wires to the building. It's the same all across the country. Whoever owns the wires has a total monopoly. In the transmission business, there is no free market – so forget relying on the "market" to fix this issue. All the market wants from PG&E is dividends and a high share price, which translate into cost cuts, shitty maintenance, and inadequate investment.
The city of San Francisco would buy the power from power generators, including PG&E, which is also buying power from other power generators. There is actual competition among power generators with something like a real market, including market manipulation.
The $2.5 billion purchase price would be funded by a revenue bond issue. Last November, voters approved Proposition A that authorized San Francisco's public utilities commission to issue bonds for the purpose of acquiring PG&E's power equipment in San Francisco. "Funding secured," as Elon Musk would say.