Gold seen cracking $1600 as Fed goes for cut, cut, cut, cut
Gold seen cracking $1600 as Fed goes for cut, cut, cut, cut By Ranjeetha Pakiam for Bloomberg
TDC Note – Normally, as many of you know, I do not publish corporate media garbage. On occasion, like this occasion, there is absolute support for one of my arguments. I have been saying, for a couple of months, the Federal Reserve is going to take a full percentage point off Fed Funds Rates – 100 bps – before the end of the first quarter 2020 – probably much sooner.
####
"Gold will surge above $1,600 an ounce as the Federal Reserve embarks on a quartet of interest rate cuts to combat slowing U.S. growth and the fallout from the trade war with China, according to BNP Paribas SA, which flagged prospects for a significant rise in prices in the coming months."
Bullion will benefit as the Fed opts for four, 25 basis point cuts between this month and June 2020, Harry Tchilinguirian, head of commodity research, said in a note. As nominal yields fall with each reduction, "real rates will move and stay in negative territory, raising the appeal of holding gold," he said.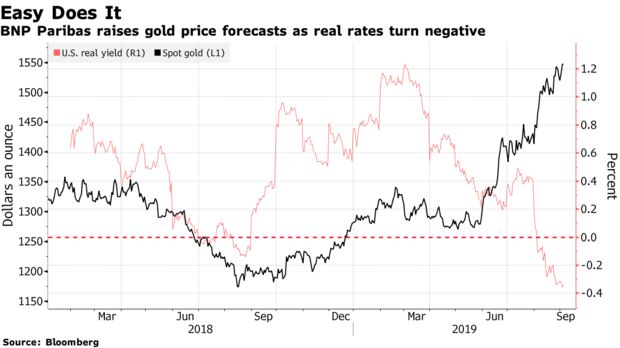 Gold has soared this year on increased demand for havens as the U.S.-China trade war damages global growth, prompting central banks including the Fed to adopt a more accommodative stance. In July, U.S. policy makers reduced borrowing costs for the first time in more than a decade, and they are widely expected to do so again at their Sept. 17-18 meeting. Against that backdrop, investors have boosted holdings in bullion-backed exchange-traded funds.