Calif. Appeals Court Throws Out Firearms Conviction of Steinle Killer
Calif. Appeals Court Throws Out Firearms Conviction of Steinle Killer BY MATTHEW VADUM for The Epoch Times
TDC Note – For the life of me, I can't understand what is wrong with the city of San Fransisco.
####
In a politically charged case, a California state appeals court tossed the single remaining conviction against an illegal alien who beat a murder charge four years ago for shooting a random woman at a San Francisco tourist attraction, after he had been freed by local authorities. The case drew national attention to so-called sanctuary cities' refusal to hand over wanted individuals to U.S. Immigration and Customs Enforcement.
Multiple deportee Jose Ines Garcia-Zarate, also known as Juan Francisco Lopez-Sanchez, fired one bullet into medical device sales representative Kate Steinle, 32, on busy Pier 14 on July 1, 2015. Steinle was cut down in front of her father and later died in a hospital.
On the campaign trail President Donald Trump referenced Steinle's killing by the illegal alien who was prematurely freed by the local jailer.
Before the shooting, ICE had filed an immigration detainer document with then-Sheriff Ross Mirkarimi, a Democrat, identifying the man as an immigration law enforcement priority and requested he be temporarily held beyond any scheduled time of release so the agency could take him into custody. Three months before the shooting, Mirkarimi, an outspoken supporter of the sanctuary movement, followed San Francisco's official sanctuary policy and refused to keep Garcia-Zarate in jail to await ICE.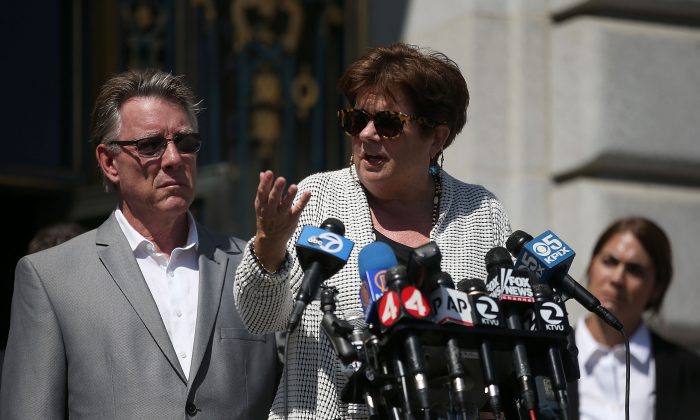 After his arrest, the foreign national, who was already a convicted felon and had previously been deported to Mexico five times, claimed he had found the stolen gun and that it had fired accidentally when he picked it up. The bullet ricocheted, striking Steinle, evidence showed. A jury acquitted him of murder on Nov. 30, 2017, but convicted him on a single count of unlawful gun possession. He was given a three-year prison term.
After the murder acquittal, Trump denounced the verdict and then-U.S. Attorney General Jeff Sessions blamed San Francisco's sanctuary policy for the victim's death.
-->