Near-Record Low Mortgage Rates No Relief for Dropping New House Prices
Near-Record Low Mortgage Rates No Relief for Dropping New House Prices by Wolf Richter for Wolf Street
Last time was during the Financial Crisis. Now it's happening in a kinder and gentler way, but there is no crisis.
The evidence thickens: In July, the median price of new single-family houses fell 4.5% from July 2018, to $312,800, and was down 3.1% from July 2017, according to the Commerce Department this morning.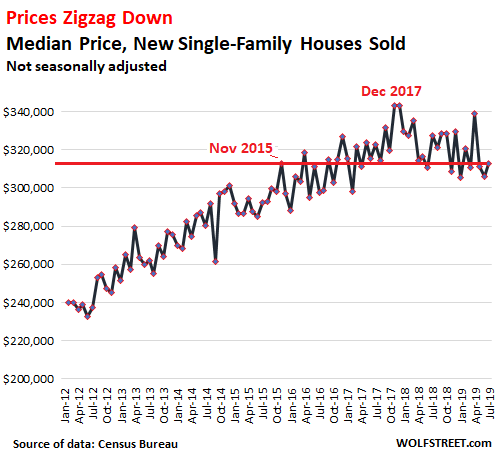 These price changes do not include the incentives – the free upgrades of finishes, counter tops, and the like – that homebuilders dangle in front of potential buyers to make deals. With incentives, buyers get a little more for the same price. The price declines in the chart are on top of that.
The trend via the three-month moving average.
As you can see from the chart above, this data – produced jointly by the Census Bureau and the Department of Housing and Urban Development – is, let's say, a little "volatile" on a month-to-month basis. It also gets revised (up or down) in the following months. The three-month moving average smoothens out some of those effects and allows for longer-term trends to become clearer.
The three-month moving average through July, at $310,000, is 9% below the peak three-month average through January 2018 and is back where it had first been in April 2016: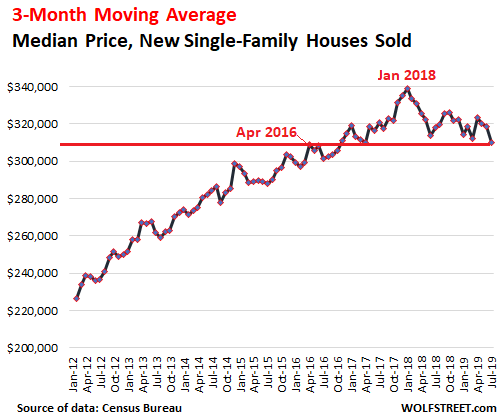 The price trend peaked in November and December 2017 and then broke. Due to the volatility of the data, this became clear only with the benefits of substantial hindsight, but it has been clear for a while.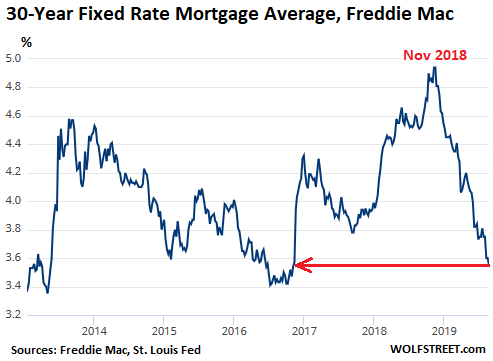 The plunge in mortgage rates has been touted for months as the thing that would kick the housing market into high gear, and send sales volumes soaring, and send prices chasing after volume. So why is it not happening: Because in many markets, prices have hit a ceiling, and buyers just don't feel like paying so much for so little? Maybe.