Inflation Data Shows Tariffs Are Not a Tax on Consumers but on Foreign & US Corporations
Inflation Data Shows Tariffs Are Not a Tax on Consumers but on Foreign & US Corporations by Wolf Richter for Wolf Street
Inflation runs hot in housing, medical services, health insurance, other items that are not imported.
The consumer price inflation data released today by the Bureau of Labor Statistics, which corroborates prior inflation data, says that, yes, prices are rising, but they're rising sharply in services that are not impacted by imports and tariffs, such as rents and other housing costs, healthcare, education, and other services, and also in restaurants (where customers pay mostly for labor and rent). But inflation in durable goods, such as electronics, cars, and the like – where the tariffs would show up – was very low.
Inflation as measure by the Consumer Price Index (CPI) rose 0.3% in July from June and 1.8% over the 12-month period. This was largely held down by a decline in energy costs (-2.0% due to the ongoing oil bust) and by a very slow rise in the costs of durable goods.
Food and energy prices are very volatile, dancing to the tune of oil busts, droughts, floods, diseases in animals, and other factors. Together, they weigh about 21% in the overall CPI. A less volatile measure is the CPI without food and energy, or "core CPI," which rose 2.2% over the 12-month period, at the high end of the 10-year range: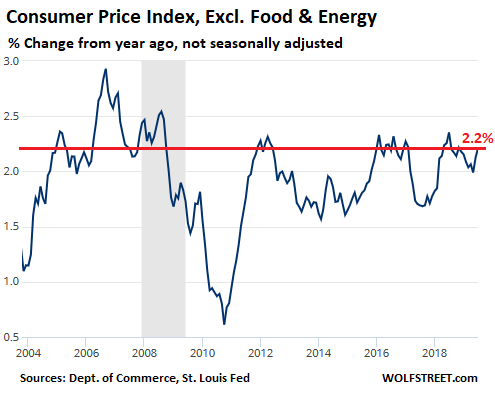 Where does this inflation come from?
Primarily Services: Services include the biggies that consumers spend most of their money on: housing costs, healthcare, financial services, telecommunications services, education, etc. Services without energy services (such as utilities) weigh about 60% in the overall CPI. These services have nothing to do with imports or tariffs, and over the 12-month period, their prices jumped 2.8%: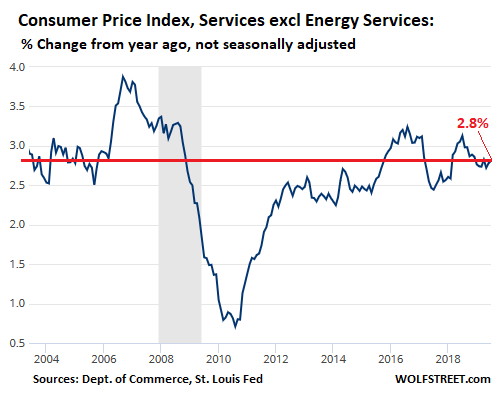 "Shelter," the biggie, accounts for 33% of the overall CPI. "Shelter" is a group of services that includes housing costs, such as rents and "owner's equivalent of rent" (what it would cost a homeowner to rent the home), plus hotels, and the like. Shelter has nothing to do with imports or tariffs, and it jumped 3.5% over the 12-month period, at the very top of the 10-year range: