The Biggie that Used to Be Strong: Nonresidential Construction Spending Suddenly Sags
The Biggie that Used to Be Strong: Nonresidential Construction Spending Suddenly Sags by Wolf Richter for Wolf Street
Only feeble signs of manufacturing returning to the US (you've got to build the plants first).
Construction spending, an important part of the US economy, has essentially gone nowhere over the past 18 months – the longest period of drought since the great recession. Total construction spending – residential and nonresidential, private and public – in June fell 2.1% from June last year to a seasonally adjusted annual rate of $1.29 trillion, according to the Commerce Department today.
Construction spending has now fallen on a year-over-year basis in four of the last five months, and is back where it had first been in January 2018: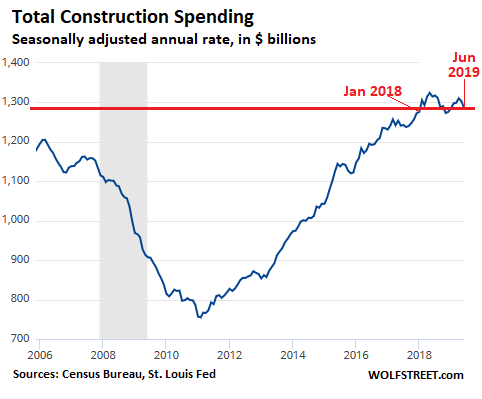 All figures are quoted as "annual rate." Annual rate means that at the June pace, construction spending for the whole year would total $1.29 trillion.
Residential construction spending – 99% is "private" rather than "public" spending – dropped 8% from June 2018, the ninth month in a row of year-over-year declines, to a seasonally adjusted annual rate of $513 billion, back to January and February 2017 levels, and down 10% from the recent peak in April 2018. Note, that residential construction spending never fully recovered from the collapse during the Housing Bust: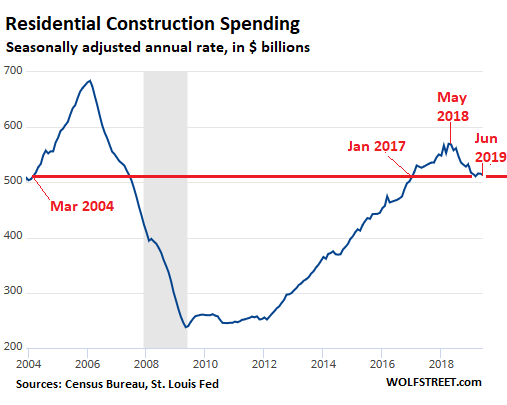 The decline in residential construction spending has been the dominant culprit for weak overall construction spending since mid-2018. But residential construction has stabilized near the $513 billion level during the past five months, and has stopped dropping. Now nonresidential construction spending is getting weak.
Nonresidential construction spending – which is about 50% larger than residential construction spending and is therefore a lot more important for the economy – had been growing at a decent clip through April, when it peaked at a seasonally adjusted annual rate of $794 billion, a historic record. But over the past two months, spending has dropped on a month-to-month basis, to a rate of $773 billion in June. This reduced the year-over-year gain to just 2.3%: