From Less-Splendid Housing Bubbles to Crushed Markets in America, July Update
From Less-Splendid Housing Bubbles to Crushed Markets in America, July Update by Wolf Richter for Wolf Street
Chicago struggles, Dallas-Fort Worth, Atlanta, Minneapolis, Charlotte reach new highs. Drum-roll for Detroit and Cleveland!
This is the other side: Not every metro in the US has experienced the kind of blistering housing bubbles occurring in Miami or the San Francisco Bay Area, as illustrated in The Most Splendid Housing Bubbles in America: Year-Over-Year Declines Spread to Seattle. This is about the others among the 20 metros in the  CoreLogic Case-Shiller Home Price Index, the metros that range from crushed markets — that are trying to dig themselves out — to blooming bubbles that haven't quite yet qualified for the list of the Most Splendid ones.
Dallas-Fort Worth House Prices:
To the aggravation of homeowners and speculators at the time, the Dallas-Fort Worth metro skipped Housing Bubble 1, so called because it was the first housing bubble in this millennium. Consequently, they were spared Housing Bust 1. Now the metro is in a housing bubble of historic proportion: The Case-Shiller index for the Dallas-Fort Worth metro rose 0.5% in May from April, to a new record, and is up 70% over the past seven years! But as in many other bubble markets, the heat is fading: The index in May was up just 2.6% from a year ago, the weakest year-over-year gain since March 2012: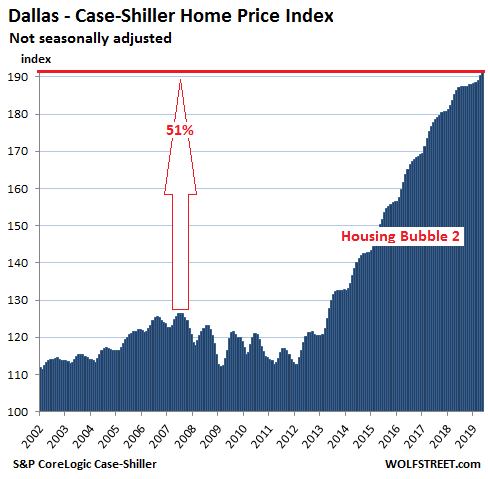 The Case-Shiller Index is a three-month average; the current release represents closings that were entered into public records in March, April, and May.
Chicago Home Prices:
Prices of single-family houses in the vast and diverse Chicago metro rose 0.8% in May from April, slightly less than last year's seasonal uptick at this time. This whittled down the year-over-year gain further, to just 1.6%, according to the Core-Logic Case-Shiller Home Price Index. The index is still 14% below the crazy high of September 2006 at the peak of Housing Bubble 1: