Trump Administration Announces Plan Allowing People to Buy Lower-Cost Prescription Drugs From Canada
Trump Administration Announces Plan Allowing People to Buy Lower-Cost Prescription Drugs From Canada BY ZACHARY STIEBER from The Epoch Times
The administration of President Donald Trump revealed a plan on July 31 that would let Americans buy lower-cost prescription drugs from Canada.
The action plan (pdf) released by the Department of Health and Human Services (HHS) and the Food and Drug Administration (FDA) included two pathways to get lower-cost drugs to consumers.
One relies on the Federal Food, Drug, and Cosmetic Act to allow people to import drugs from Canada. That was expected to lead to "significant cost savings" for Americans, the FDA said.
"Under this pathway, States, wholesalers, or pharmacists could submit plans for demonstration projects for HHS to review outlining how they would import Health-Canada approved drugs that are in compliance with section 505 of the FD&C Act," the agency stated.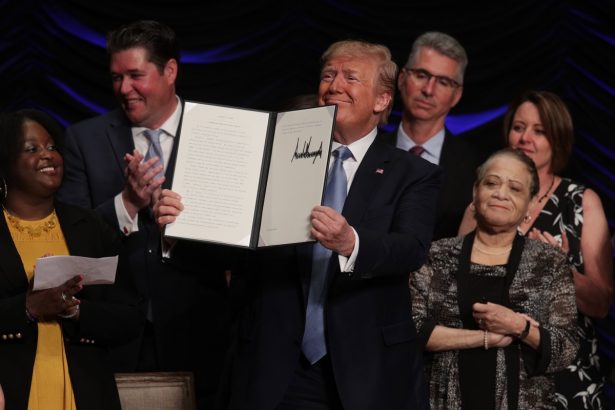 The second path allows manufacturers to import versions of FDA-approved drugs that the companies sell in other countries and are the same versions used in the United States.
"The Administration has reason to believe that manufacturers might use this pathway as an opportunity to offer Americans lower-cost versions of their own drugs. In recent years, multiple manufacturers have stated (either publicly or in statements to the Administration) that they wanted to offer lower-cost versions but could not readily do so because they were locked into contracts with other parties in the supply chain. This pathway would highlight an opportunity for manufacturers to use importation to offer lower-cost versions of their drugs," the FDA stated.
Health and Human Services Secretary Alex Azar said that Trump had been pushing to lower the cost of drugs and that he spoke with the president about the issue Tuesday night.
"I just got off the phone with him," Azar told CNBC. "Working on a plan on how we can import drugs safely and effectively from Canada so the American people get the benefit of the deals that pharma themselves are striking with other countries."