China Auto Sales Spiral Down, But This Time It's Different: Government Refuses to Bail Them Out with Big-Fat Incentives
China Auto Sales Spiral Down, But This Time It's Different: Government Refuses to Bail Them Out with Big-Fat Incentives by Wolf Richter for Wolf Street
Here's why. The strategy is a game changer with global impact.
Geely, China's largest domestic automaker, disclosed that deliveries plunged 29% in June compared to a year ago, and that they're down 15% in the first half. And it slashed by another 10% its already lowered forecast for deliveries for the whole year. This type of disclosure is now a regular feature of China's dramatic auto slowdown.
New-vehicle sales in China dropped 9.4% in June, compared to a year ago, to 2.06 million vehicles, according to the China Association of Automobile Manufacturers (CAAM). It was the 12th month in a row of year-over-year declines. For the first half of 2019, sales were down 12%. If sales continue to decline at this rate, they will drop to 21 million vehicles for the whole year, the lowest since 2014, representing a 15% drop from the peak in 2017 (estimate for 2019 in red):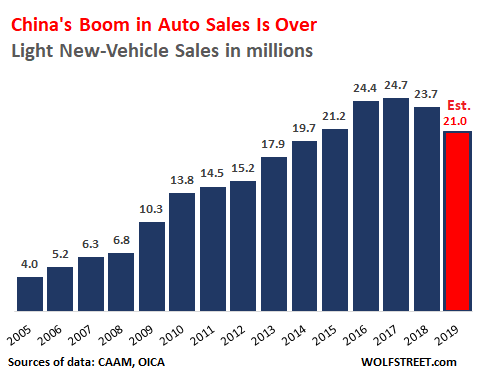 But the boom had been mind-boggling: From 2005 through 2017, sales sextupled, from 4.0 million vehicles to 24.7 million vehicles. In China's managed, pump-primed, growth-no-matter-what economy – at least that is what it was – there was not a single year of declines in the data going back to 1991. But that changed in 2018 with a 4.1% decline. And now there is this awful 2019.
During the Financial Crisis years 2009 and 2010, China's vehicle sales doubled, from 6.8 million in 2008 to 13.8 million in 2010, with annual sales soaring 52.8% in 2009 and 33.2% in 2010, after the government unleashed a torrent of liquidity and incentives to get consumers to buy cars. But 2017 was already a year of near-stagnation (+1.4%), now followed by what will likely be two years of declines in a row: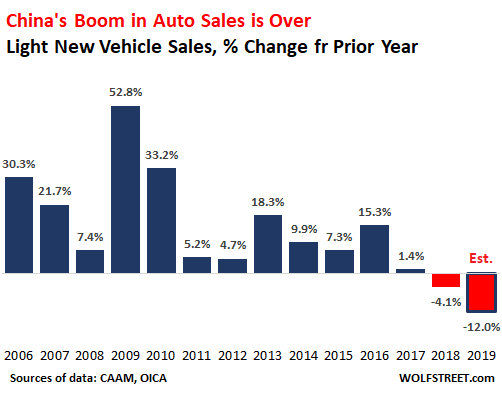 But "New Energy Vehicles" are booming.
Despite falling overall new-vehicle sales, New Energy Vehicles (NEV) are hot and sales are booming. They include battery-electric vehicles (BEV), plugin hybrids, and fuel-cell vehicles.
In June, NEV sales skyrocketed 80% year-over-year to about 152,000. Of them, 129,000 were BEVs, 22,000 were plug-in hybrids, and a minuscule 484 vehicles were powered by a fuel cell.