Vehicle Sales Plunge amid India's Shadow-Bank Debt Crisis & Contagion Fears
Vehicle Sales Plunge amid India's Shadow-Bank Debt Crisis & Contagion Fears by Wolf Richter for Wolf Street
Shadow banks provided 40% of new loans for vehicle purchases.
Car sales in India, the fifth-largest auto market in the world, plunged 24% in June, compared to June last year, after they'd already plunged 26% in May, the Society of Indian Automobile Manufacturers reported. Year-over-year declines have been dragging on for nearly a year.
Sales of "goods carriers," which are seen as an indication of economic momentum, dropped 18% from a year ago. Goods carriers include vehicles such as these: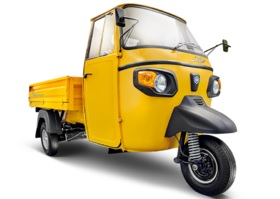 Scooter sales dropped 15% year-over-year. Sales of motorbikes dropped 10%. Sales of mopeds plunged 22% — "an indication of a gigantic slump in economic growth and decline in demand in rural areas," The Week explained.
In India's first fiscal quarter, ended June 30, sales of all two-wheel motorized vehicles combined, by far the largest category of vehicles sold in India, fell 12% to 5 million units. Passenger vehicle sales fell 18% to 712,620 units. Within this group, cars fell 23%, utility vehicles 4.5%, and vans 25.7%, according to the  Society of Indian Automobile Manufacturers (SIAM).
"Probably the most prolonged de-growth phase we have seen."
"I think…this is the worst phase India's auto industry has seen," said Rajan Wadhera, president of SIAM and head of Mahindra & Mahindra's automotive group, when he unveiled the data. Even the once booming ride-share demand has taken a hit. And weak farm income hurt sales of two-wheelers.
"There were patches of de-growth in 2009, 2011 and 2012, but the government stepped in, tax incentives were given and situation got better. This is probably the most prolonged de-growth phase we have seen," Wadhera said.
He warned of ripple effects throughout the economy, such as more job losses and closings of dealerships. And he clamored for the government to step in and do something, which is what you'd expect an executive of one of India's largest vehicle makers to say.