State Of Emergency Declared After 7.1 Quake Rocks Southern California; Massive Aftershocks Shake Towns
State Of Emergency Declared After 7.1 Quake Rocks Southern California; Massive Aftershocks Shake Towns from ZeroHedge
Update (0945ET): California Governor Gavin Newsom has declared a state of emergency for San Bernardino County following the 7.1-magnitude quake, establishing emergency shelters and directing state agencies to assist.
NEWS: Governor Newsom Declares State of Emergency for San Bernardino County https://t.co/0p3eSpZps2

— Cal OES (@Cal_OES) July 6, 2019
Friday's earthquake lasted around 10 seconds longer than the Fourth of July earthquake in Searles Valley. According to the US Geological Survey, it was followed by at least 16 aftershocks of magnitude 4 or greater. The agency has warned of a 50% chance of another magnitude 6 quake in the coming days, and a 10% chance of a magnitude-7 tremor in the next week.
So the M6.4 was a foreshock. This was a M7.1 on the same fault as has been producing the Searles Valley sequence. This is part of the same sequence –

— Dr. Lucy Jones (@DrLucyJones) July 6, 2019
Yes, we estimate that there's about a 1 in 10 chance that Searles Valley will see another M7. That is a 9 in 10 chance that tonight's M7.1 was the largest.

— Dr. Lucy Jones (@DrLucyJones) July 6, 2019
Ridgecrest California 7.1 Earthquake #earthquake #californiaquake #Ridgecrestquake #damage #scary pic.twitter.com/ymDnyFkdsX

— WX-EatonvilleWA (@EatonvilleWAWX) July 6, 2019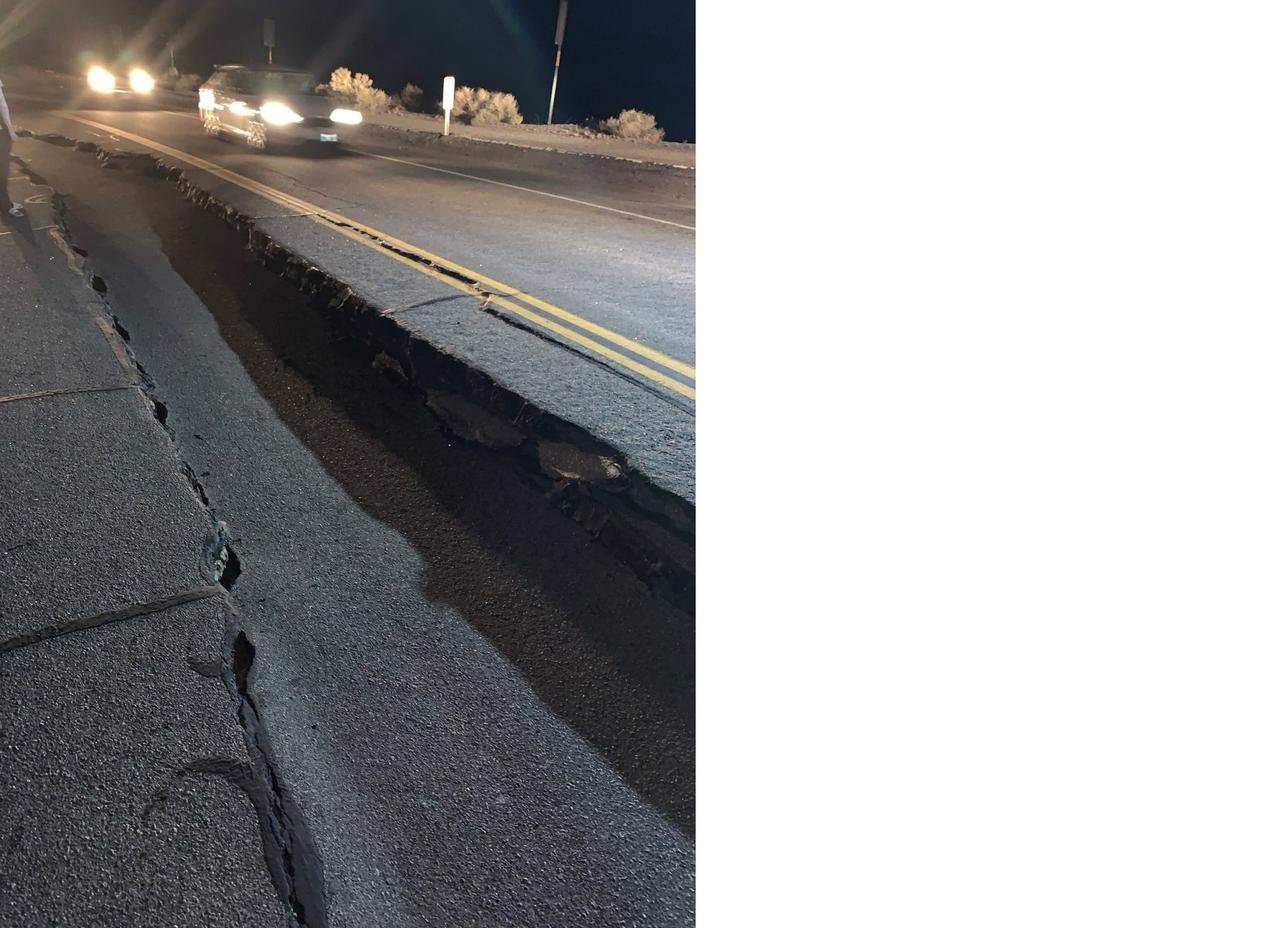 #earthquake #ANOTHER #laearthquake #ANOTHER EARTHQUAKE pic.twitter.com/BUNGXu0CCG

— 𝚍𝚘𝚗𝚊𝚕𝚍 𝚋𝚊𝚛𝚗𝚊𝚝 (@50Lux14) July 6, 2019
***
Update (1145ET): Less than 12 hours after seismologist Lucy Jones warned of another large quake, a massive 7.1 quake just hit 17km NNE of Ridgecrest.
Prelim M7.1 Earthquake 35.767, -117.605 Jul-06 03:19 UTC, updates https://t.co/uVJBfBodUN

— USGS Big Quakes (@USGSBigQuakes) July 6, 2019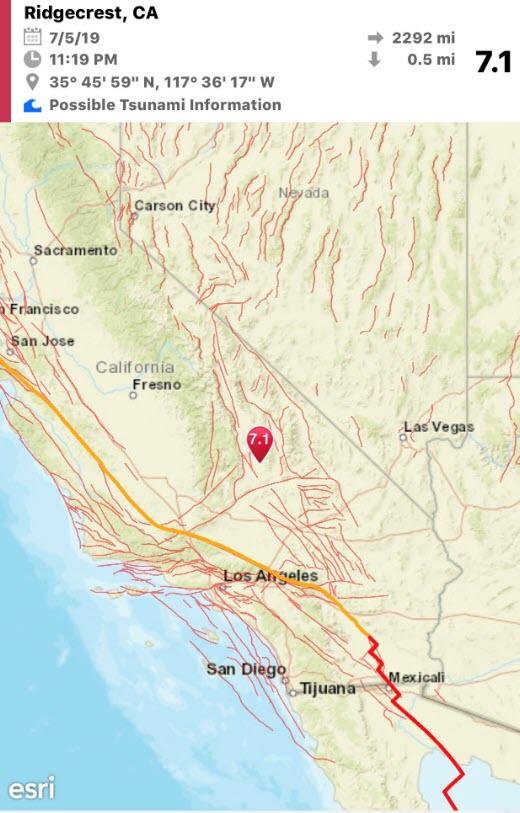 This continues the swarm of aftershocks that has hit all day… (Seismologists at Cal Tech said Friday afternoon that there had been around 1,400 aftershocks since Thursday's 6.4-magnitude quake, with 17 of those with a magnitude of 4 or above.)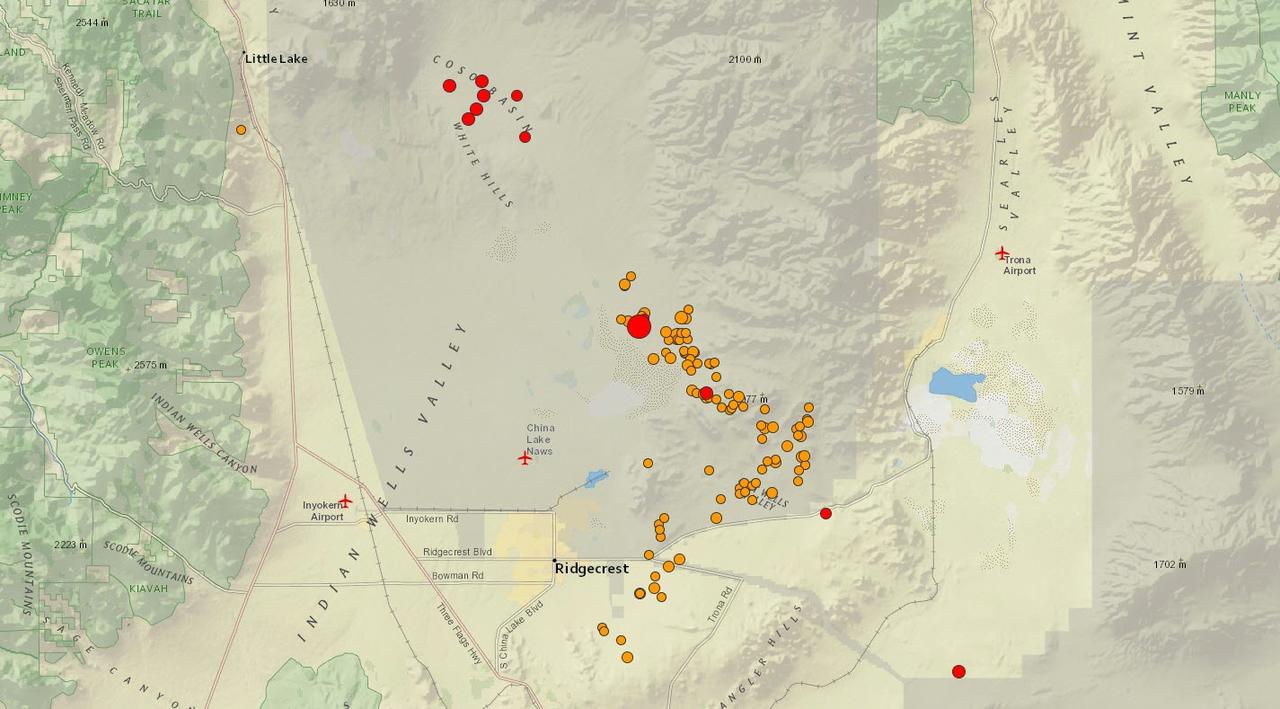 The quake hit at 2319ET less than 24 hours after the largest quake (6.4) in over 20 years struck the same region.