Turkish Financial Crisis Hammers Home Sales & Mortgages
Turkish Financial Crisis Hammers Home Sales & Mortgages from Wolf Street
Turkish state-owned banks and subsidiaries of European banks on the hot seat.
By Don Quijones, Spain, UK, & Mexico, editor at WOLF STREET.
Sales of homes of all types in Turkey plunged 31% year-on-year in May to just 82,252 units, after having already plunged 18% year-over-year in April, according to the Turkish Statistical Institute. It was the sharpest year-over-year drop in the data going back to 2013, as Turkey's economic crisis continues to bite. For the first five months of 2019, home sales dropped 19% compared to the same period last year, to 423,088 units.
The six-month moving average, which reduces the large seasonal and month-to-month swings of home sales in Turkey, dropped to the lowest levels since 2013-2014: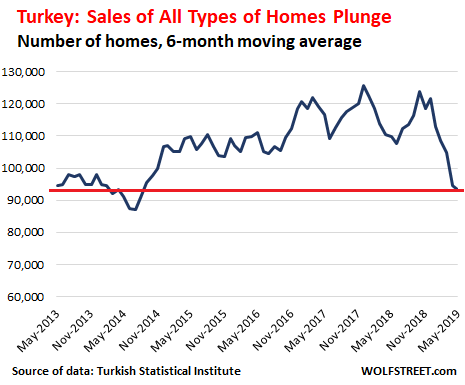 In terms of new homes, sales crashed 39% in May compared to the same month last year, to 33,765 units, after dropping almost 30% in April.
Turkey's housing market is in a deep downturn after a debt and currency crisis last year sent interest rates on mortgages soaring and decimated consumer spending power. The government has lowered taxes on home purchases and offered cheap lending via state-run banks to help boost activity in the industry and stem the rising number of new homes lying empty.
But it's not working. Last year, the total number of homes sold fell by 2.5%, the first decline in this data going back to 2013. The number of mortgages signed, however, plunged by 42% to 276,826 from a record high of 473,099 in 2017. That was a foretaste of things to come. For the first five months this year, the number of mortgages signed collapsed by a 65%, from 154,000 to 54,000.
Indeed, demand for mortgages is falling so fast that Turkey's two biggest public owned banks, Vakifbank and Ziraat Bank, this week started offering mortgages to home buyers at below market rates in an attempt to reverse the trend. Both banks have cozy ties with Turkey's President Recep Tayyip Erdoğan.
Continue Reading / Wolf Street>>>