These Maps Show America In Great Despair As Our Nation Turns Away From God
These Maps Show America In Great Despair As Our Nation Turns Away From God By Stefan Stanford – All News Pipeline
According to this incredibly sad June 12th story over at NBC News, death rates in America from suicides, drug overdoses and alcohol related causes have reached an all-time high here, with this new report released by the Commonwealth Fund examining data from all 50 US states finding the states of Ohio, West Virginia and Pennsylvania particularly hard hit.
Reporting that these so-called 'deaths of despair' are exploding across the country with the rate of overdose deaths from drugs in West Virginia called 'mind boggling', the NBC News story contained 3 different maps which we've put into this story, maps which show just how many people are dying from these preventable deaths and hinting that there are very few possible long lasting solutions to all of the different crisis our nation now faces: America's return to God. Or the Return of Jesus.
As we had reported on ANP back in January of 2018, America has been suffering a huge spiritual vacuum as the masses turn away from God and have instead embraced evil and as the Head of the Russian Orthodox Church, Patriarch Kirill, has warned numerous times that if the world continued upon the path that it is now on, the world was approaching 'end times'. First, from NBC news.
"When we look at what's going on in mid-Atlantic states — West Virginia, Ohio, Pennsylvania — those are the states that have the highest rates of drug overdose deaths in the country," David Radley, a senior scientist for the Commonwealth Fund, said.
Rates in those states are at least double the national average of fatal drug overdose rates. West Virginia had the highest drug overdose death rates, fueled mostly by the opioid epidemic. What's more, those rates rose by 450 percent from 2005 to 2017, according to the report.
"The rate of growth in drug overdose deaths in West Virginia is absolutely mind-boggling," Radley told NBC News.
It's not just prescription painkillers and heroin that are driving these death rates. The study authors also point to fentanyl and other potent synthetic opioids that are creeping into illicit drugs such as cocaine. Fentanylis similar to morphine, but 50 to 100 times more potent, according to the National Institute on Drug Abuse.
Following West Virginia, the District of Columbia, Kentucky, Delaware and New Hampshire had the next highest drug overdose death rates in the country, according to the report.
Death rates from suicide and alcohol also showed regional disparities. People died at higher rates by suicide or from alcohol than from drugs in Montana, Nebraska, the Dakotas, Oregon and Wyoming.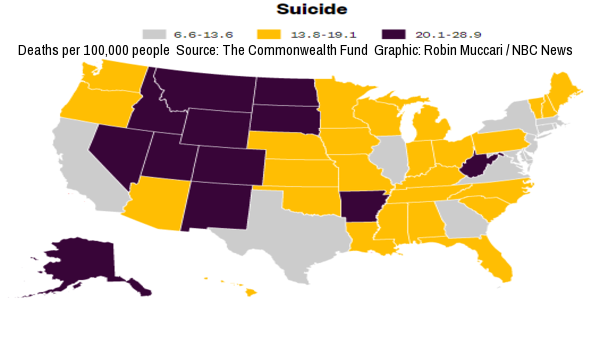 Just a few months ago, I received one of those phone calls that one never wants to receive.
My mother was calling to let me know that a friend I had grown up with during the early 1980's had passed away.
While I'll always remember a huge number of us sitting around with 'Ed', watching every Clint Eastwood movie ever created as Eastwood's characters were the embodiment of who 'Ed' wanted to be, I was further saddened to learn in the phone call with my mom that 'Ed' had committed suicide, taken his own life at a time in America where our nation was suffering from record numbers of suicide all across the country. None of us would have ever seen it in 'Ed'.
Yet as Mac Slavo also reports in this new story over at SHTFPlan, America is now witnessing a massive surge in 'deaths of despair'; suicides, deaths from drugs and deaths due to alcohol, and as we'll see in the excerpt below taken from his new story, all of this is happening at a time when the government had abandoned America, funnelling money away from the American people to themselves and putting trillions of dollars and great time and energy into creating their 'global new world order'. They've left the American people behind and this is what tens of millions have gotten in return.