Gold Special Update..
Gold Special Update.. by Clive Maund for Gold Seek
With things shaping up so well for gold, we can certainly take any short-term correction in our stride, and more than that, we can seize upon it as an opportunity to build positions further across the sector, whether by means of ETFs, stocks or options, and of course, gold itself.
Several factors suggest that a modest short-term correction is likely before the major breakout occurs. Gold is overbought after its recent runup and is rounding over beneath the major resistance approaching $1400, as we can see on its latest 6-month chart below. Thus, the appearance of a short-term bearish "shooting star" candlestick on its chart on Friday coupled with its latest COTs showing Commercial short and Large Spec long positions hitting rather extreme levels suggests that it is likely to react back over the next week or two to allow things to cool for a bit before the major breakout occurs. The current COT structure IS NOT regarded as bearish overall, because we would expect speculators to pile in at the start of a big move – positions can be expected to get much more extreme once the big breakout occurs, flying off the charts and staying high as the 1st major upleg of the new bullmarket unfolds.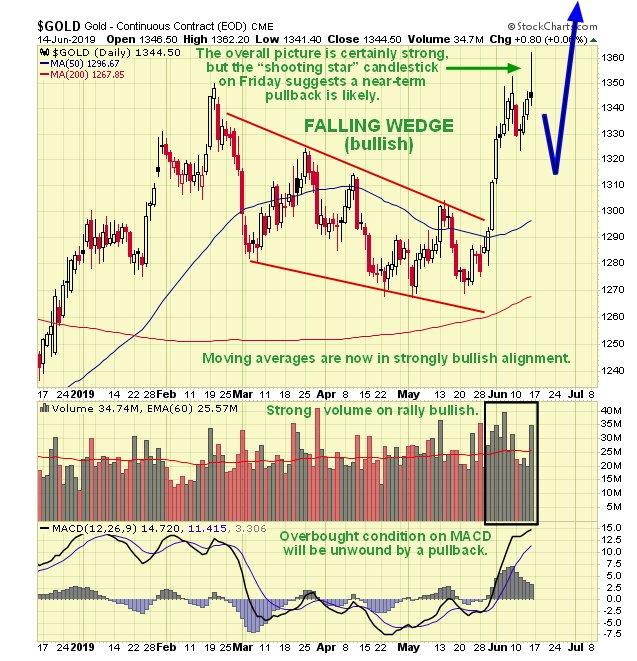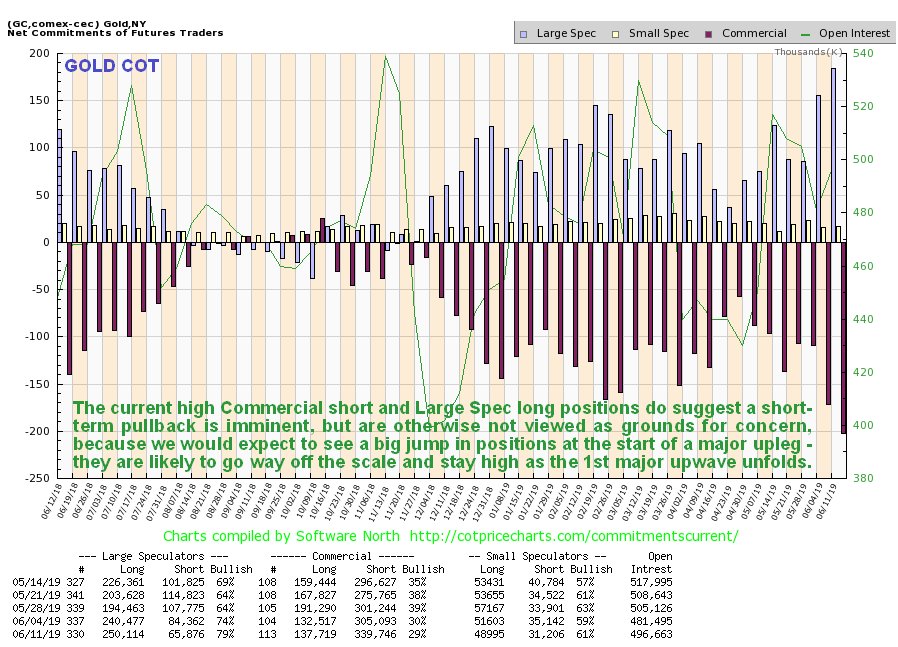 Click on chart to popup a larger, clearer version.
Fundamentally, the compelling reasons for a major gold bullmarket are coalescing fast. After putting a sticking plaster on the system for the past 10 years by means of "Quantitative Easing" – stop and think about this term for a minute, someone was obviously charged with the task of "putting lipstick on a pig" by coming up with it, what they really mean is State counterfeiting – if you did what they have been doing in your backyard, printing money, you would risk ending up in jail – they have done it on a much grander scale and are still free to walk the streets – that plaster is now coming off and things are now unravelling fast. The Fed's attempt to return to relative normality by raising rates and scaling back their bloated balance sheet quickly came off the rails, leaving them as impotent bystanders. They have abandoned ship and we are now staring at the prospect of QE on an even grander scale than hitherto coupled with NIRP (Negative Interest Rate Policy), as the masters of the system move from pillaging the populace by means of interest rates way below the real rate of inflation to outright grand larceny in the form of bail-ins (theft of funds from bank accounts) and negative interest rates. Needless to say, negative interest rates just by themselves are going to make gold look like a very attractive alternative to stashing cash in the bank and getting fleeced, and quite obviously, the trend towards zero and even negative interest rates will remove support for the dollar which will tank, providing a powerful tailwind for gold which has been held in restraint over the past year or so (at least against the dollar) partly by the dollar's rally on the back of rising rates.