The Countries with the Most Monstrous Corporate Debt Pileups: US Fizzles in 24th Place! Canada Shines in 11th Place
The Countries with the Most Monstrous Corporate Debt Pileups: US Fizzles in 24th Place! Canada Shines in 11th Place by Wolf Richter for Wolf Street
China's corporations deleverage, forced or otherwise.
US "nonfinancial" corporate debt – this excludes debt by banks and by businesses that are not incorporated – rose to a record $15.2 trillion in the fourth quarter, according to data released by the Bank for International Settlements last week. To show how much of a burden this debt is, how it compares to other countries, and to eliminate the effects of inflation, the BIS also expresses this debt as a percent of nominal GDP. Given the growth of GDP in Q4, the ratio of corporate debt to GDP, at 74.4%, was unchanged from the upwardly revised Q3, and was down a tad from the record in Q2 of 74.9%.
The prior record of US corporate debt had been set in Q4 2008, at $10.7 trillion, as corporate debt had begun to unwind noisily, following the Lehman Brothers bankruptcy, and as GDP growth had turned sharply negative. In Q4 2018, corporate debt in dollar-terms was 42% higher than at the prior peak in Q4 2008. When measured as a percent of nominal GDP, the peak in Q4 2008 was 72.5% of GDP. And we've got that already beat by nearly two percentage points: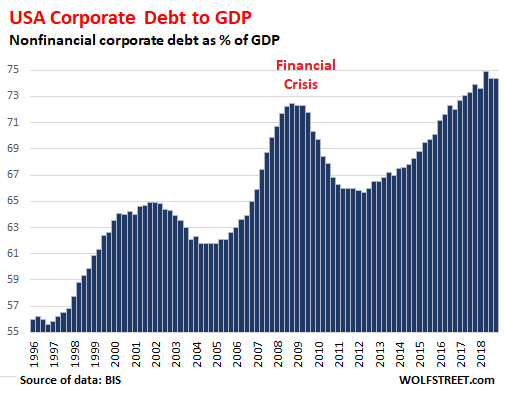 Corporate debt is high enough to be featured in the Fed's Financial Stability Report at the top of the list of factors that might trigger the next financial crisis.
To compare the burden of debt levels from country to country, the BIS uses a country's corporate debt as percent of nominal local-currency GDP. By this measure, and compared to all the debt sinners out there, the US is nevertheless only in a lowly 24th place.
All eyes are glued on China'd Corporate Debt
China, a smaller economy than the US economy, has by far more nonfinancial corporate debt: In US dollar terms, corporate debt in China hit a record of $21.1 trillion in Q1 2018, by far the most of any country. But since then, Chinese companies have been deleveraging under the orders from the central government. Deleveraging takes many forms in China, including defaults, state-mandated loan-to-equity swaps by Chinese state-owned banks, and bailouts by the central government, which includes the PBOC.