Used-Car Wholesale Prices Surge, Retail Volume Drops. New Cars Sink Deeper into Carmageddon
Used-Car Wholesale Prices Surge, Retail Volume Drops. New Cars Sink Deeper into Carmageddon by Wolf Richter for Wolf Street
The Chart of Carmageddon.
Prices of used vehicle that were sold in May at wholesale auctions rose 4.0% compared to May last year, according to Manheim, the largest auto-auction house in the US, running about 8 million vehicles through its venues a year. The chart of the Manheim Used Vehicle Value Index, which is adjusted for mix, mileage, and seasonality, shows the two price surges from end of March 2017 and March 2018 that were subsequently only partially unwound. And the 2019 selling season is beginning likewise: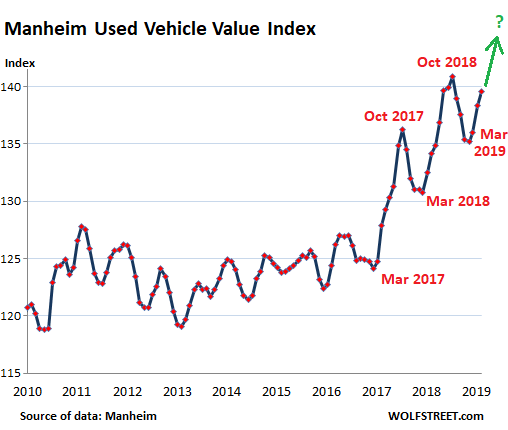 May was the 28th month in a row of year-over-year price gains. This is unusual, as this chart of year-over-year price changes of the Manheim Used Vehicle Value Index shows: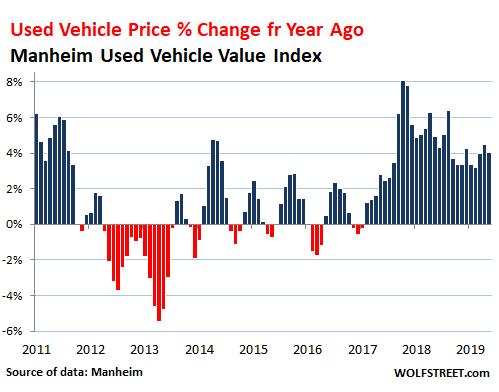 The last time there was such an extended period of year-over-year price gains was from the trough of the Financial Crisis. After prices had collapsed in 2008, they started bouncing off sharply in January 2009.
By the time the "Cash for Clunkers" program started officially on July 1, 2009, used vehicle prices had already recovered to their prior pre-crisis levels (see chart below). But "cash for clunkers" boosted prices further. Congress had appropriated $1 billion that was supposed to last through November. But by July 30, it was gone. Congress appropriated another $2 billion, which was soon gone too.
Car buyers were handed this $3 billion to trade in their "clunkers" and buy a new vehicle. Cash for clunkers was designed to boost new-vehicle sales. The engines of these trade-ins under the program were destroyed and the vehicle was then towed to the salvage yard for parts.
As a side effect, the program destroyed a portion of the most affordable vehicles – another devastating blow to lower-income car buyers in subsequent years. Not only were the most affordable vehicles gone; but by removing this supply from the market, Cash for Clunkers caused the prices up the entire scale of used cars to surge. This included my three-year-old car. Its book value rose month after month, even as the car got older and accumulated miles, something I'd never seen before, and I'd spent many years in the car business.