This Ebola Warning By Experts Should Be Taken Seriously
This Ebola Warning By Experts Should Be Taken Seriously: 'Risk Of The Virus Leaping The Border To Other Countries Is Very High' By Susan Duclos – All News PipeLine
On June 4, 2019 the House Foreign Affairs Subcommittee on Global Health held a hearing on the Ebola outbreak in the Democratic Republic of the Congo, which has infected more than 2,020 people with a death toll of over 1,300. The witnesses at the hearing were USAID Acting Assistant Administrator, Tim Ziever, and CDC Director Dr. Robert Redfield. (The entire hearing is embedded within the article)
Recent reporting from Center of Infectious Disease Research and Policy (CIDRAP) at the University of Minnesota, quotes Mike Ryan, an MD and a WHO assistant director-general, using World Health Organization (WHO) statistics, says that those numbers could be significantly higher because WHO "estimates it is detecting 75% of cases, with as many as 25% missed or being picked up "too late."
The one hour 23 minute hearing offered an update on the U.S. government response efforts, Ebola vaccine availability, including that they are running out, lessons learned from previous outbreaks, and some additional statistics and facts we haven't seen widely reported.
Some key points made between the two witnesses include the differences between the previous Ebola outbreaks and this latest one which was officially declared an emergency in August 2018, but actually started over a year ago, according to Ziever.
One of those disturbing differences is that the average outbreak length from previous years was just four months, compared to this one that has lasted over a year, despite the "official" date being August 2018, and Ziever is very clear in saying the situation is "worsening" and Ebola cases will "continue to rise."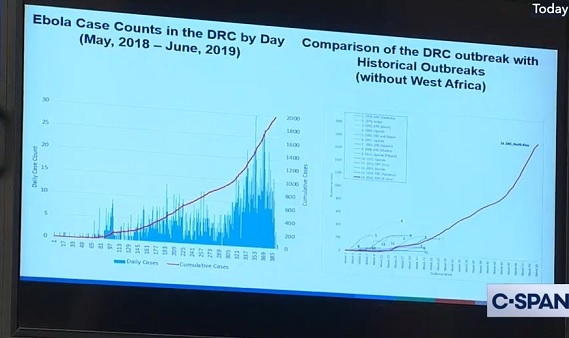 One key quote that caught my attention was when Ziever asserted "The scope of this bio-security threat is changing, and the risk of the virus leaping the border to other countries is very high."
That in conjunction with the CDC Director's testimony later in the hearing where he said the risk to the U.S. from the approximate 43 people a day from the Congo that travel to the United States is very low, should the virus cross the borders into other countries, as Ziever asserted it likely would, then that risk rises considerably.
The 43 people traveling to the U.S. a day from that part of the world, are those traveling legally and can be set up in a system where they "self-monitor" for the first symptom of Ebola, a fever," in case they were still in the incubation period when first evaluated entering the country, but recent reports from U.S. Customs and Border Protection, shows us the dangers are those coming illegally.
May 31, 2019:
DEL RIO, Texas – U.S. Border Patrol agents assigned to the Del Rio Station apprehended a large group of 116 individuals Thursday.

"Large groups present a unique challenge for the men and women of the Del Rio Sector," said Chief Raul Ortiz. "This large group from Africa further demonstrates the complexity and severity of the border security and humanitarian crisis at our Southwest border."

Agents performing line watch operations apprehended the group after they illegally crossed the Rio Grande into the U.S. around 10:30 p.m.

This is the first large group apprehended in the Del Rio Sector and the first large group of people from Africa – including nationals from Angola, Cameroon and Congo – apprehended on the Southwest border this year.

Agents have encountered 182 large groups of more than 100 individuals across the Southwest border so far this fiscal year.
C-Span video of the hearing below (using the scroll bar, viewers can skip over listening the congress men and women babbling and just listen to the two experts)