David Morgan: Swap Gold for Silver at Today's Extreme 90:1 Ratio (Podcast)
David Morgan: Swap Gold for Silver at Today's Extreme 90:1 Ratio Video by Mike Gleason for Money Metals
Coming up David Morgan of The Morgan Report joins me to discuss the ticking time bomb that is the trade war with China, why he believes flooding in the Midwest could lead to serious price inflation in food, and also gives us his outlook for the precious metals. Don't miss my conversation with our good friend David Morgan, resource expert and silver market guru, coming up after this week's market update.
It was a big week for gold, as prices for the yellow metal advanced toward new highs for the year. The gold market is putting in a 3.0% gain this week to trade at $1,345 an ounce.
Gold does face some formidable multi-year resistance in the $1,350 to $1,375 area. But if it can clear that hurdle and then blow through $1,400, it may be off to the races.
Turning to the white metals, silver has a lot more work to do get back on bullish technical footing. Silver's price performance has lagged behind gold's so severely that it trades at its biggest discount to gold in nearly 30 years. It could be a once-in-a-generation opportunity to buy silver on the cheap.
Silver prices currently come in at $15.10 an ounce after rising 3.1% since last Friday's close. Platinum is up 1.3% this week to trade at $807. And finally, palladium is putting in a weekly gain of 2.8% to trade at $1,374 per ounce as of this Friday morning recording.
Metals markets are benefiting from a selloff in the U.S. dollar. A weakening dollar could become a larger trend as indicators point toward a near certainty of Fed rate cuts in the months ahead.
Earlier this week St. Louis Federal Reserve President James Bullard gave a speech suggesting the central bank would need to cut rates soon. Bullard cited slower economic growth, escalating trade conflicts, low inflation, and falling long-term bond yields.
Futures markets now suggest greater than 90% odds of a rate cut in the next year. Market expectations are effectively forcing the Fed's hand. Perhaps it's a case of the tail wagging the dog, but Fed policymakers now have little choice but to slash rates.
Of course, Jerome Powell and company have the technical ability to raise or lower the Fed funds rate at will. But in practice, they will almost always defer to markets when those markets are sending a loud and clear message.
The message of the bond market right now is that interest rates are heading way lower. Yields on the 10-year Treasury plunged to as low as 2.1% this week. That's significantly lower than the Fed short-term target range of 2.25% – 2.5%. In other words, the yield curve is inverting, with long-term rates below short-term rates. The longer the inversion stands, the greater the risk that it will push the economy into recession.
Fed policymakers – not to mention the Trump administration – would sooner stimulate and let the inflation rate run higher than let the economy contract. When the first whiffs of inflation do hit markets, there could be a massive rotation out of bonds and interest rate sensitive stock market sectors.
Bondholders and equity investors should be careful what they wish for. Rate cuts may lead to adverse side effects in financial markets, including inflation, and a social mood swing toward favoring alternative assets.
Within the alternative asset universe, a huge debate is raging between proponents of hard assets and digital assets. It boils down to the question of which is the superior store of value, gold or Bitcoin?
Obviously, there are advantages to each. Precious metals have thousands of years of history behind them that give holders confidence they will always retain value even if everything else crashes. Cryptocurrencies have spectacular upside potential and the ability to harness the networking effects of digital ledgers.
But at the end of the day, Bitcoin is no substitute for bullion. The value of an unbacked cryptocurrency is inherently speculative. Looking out into the future, there is no way of knowing whether Bitcoin will go to the moon… or be rendered totally obsolete by a new, superior technology.
As it is, the Bitcoin blockchain is clunky and inefficient – requiring enormous amounts of electricity to keep up and delivering painfully slow transaction times. Most Bitcoiners buy in hopes that Bitcoin will appreciate. They almost never actually use it as currency.
Wall Street wants to package Bitcoin into exchange-traded products that will enable brokerage firms to collect fees. Bitcoin derivative instruments that trade on stock exchanges instead of the blockchain seemingly defeat the whole purpose of Bitcoin as a peer-to-peer digital currency that exists outside the purview of financial institutions.
But the securitization of Bitcoin is here. One investment firm is trying to promote its exchange-traded Bitcoin vehicle by bashing gold. Grayscale Investments launched a "Drop Gold" campaign and produced a Hollywood-style TV commercial that takes some rather silly shots at the yellow metal.
TV Commercial: Why did you invest in gold? Are you living in the past? In a digital world, gold shouldn't weigh down your portfolio. You see where things are going. Digital currencies like Bitcoin are the future. They're secure, borderless, and unlike gold, they actually have utility. Leave the pack behind. It's time to drop gold.
It's frankly disappointing that prominent crypto promoters are parroting the same tired and false myths about gold that the financial establishment has been propagating for decades.
Obviously, gold has utility due to its unique physical and aesthetic properties. It is used in jewelry, crafts, ornamentation. It is used in high-tech applications including space technology because of its resistance to corrosion. Most importantly, gold also happens to have utility as money.
Bitcoin's uses are limited to the blockchain. Basically, it can serve as a speculation or as a digital currency. That's it.
Some may find it useful to hold a digital asset that exists outside the banking system. That's fine. We have nothing against Bitcoin holders.
In fact, Money Metals regularly processes cryptocurrency transactions. We will gladly sell gold for Bitcoin, Bitcoin Cash, Ethereum, Dash, and Litcoin — or even buy precious metals from our customers and pay them in these digital currencies rather than dollars.
Both gold and cryptos are alternative currencies that can play a role in helping give more people more independence from the banker-controlled fiat currency regime. The real debate should be about centrally controlled fiat money versus free market money.
Well now, without further delay, let's get right to this week's exclusive interview.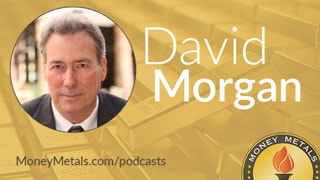 Mike Gleason: It is my privilege now to welcome in David Morgan of The Morgan Report. David it's always … we always love having you on, and appreciate the time today, how are you my friend?
David Morgan: I'm doing well, thank you very much.
Mike Gleason: Well David, we're approaching the midpoint for the year, metals got off to a great start, but markets turned over near the end of March. Our take is that gold and silver were challenged on two fronts, one the bullion banks seemed to have complete control, and the downturn we just witnessed was another repeat of familiar cycle with speculative longs being lured in, and then taken to the wood shed by the banks who were short. Secondly, the banks are finding it easy to be short because speculative interest remains pretty tepid. The equity markets have been on a tear, for the most part, since bottoming in December, and it is certainly risk on, there isn't much for safe haven demand these days. But we wanted to get your take on the markets for the first half of the year, David, do you think we have it about right there? And then also, what would you guess might be the main story in the metals markets through the second half of the year?