Busted Housing Bubble 1 Morphs into Housing Bubble 2 in Spain?
Busted Housing Bubble 1 Morphs into Housing Bubble 2 in Spain? by Wolf Richter for Wolf Street
Madrid, Barcelona, other markets are well on their way. But some markets are still crushed.
Spain's last epic housing bubble, one of the biggest in living memory, propelled median home prices to €2,100 per square meter, at which point the bubble began to burst. The national median price eventually plunged 31%, according to government data, as Spain's financial system began to collapse only to get bailed out by an international aid package. The long-drawn-out event wreaked all kinds of mayhem on the economy, workers, and the people. So where is the housing market now?
The median home price in Spain increased by 4.4% year-on-year in the first quarter of 2019, compared to the same period last year, to €1,636 per square meter (to convert € per square meter to $ per square foot, divide by 9.6),  according to new data by Spain's Ministry of Industry and Development. This pushed the national median price to its highest level since 2012, but it remains 22% below the crazy bubble peak: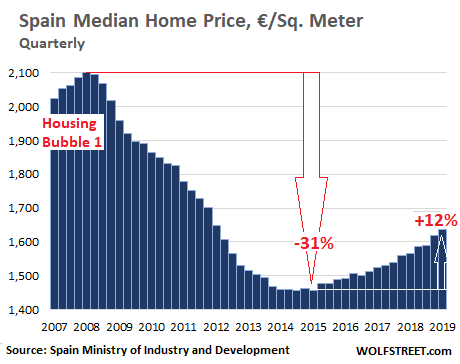 Averaged out across the nation, across hot and cold housing markets, the current upswing in house prices has a ways to go before it comes even close to emulating the mind-watering dimensions of the last bubble. But in some markets, prices have been surging for four years, while in other markets, prices are now below where they'd been in Q1 2015, during the national low point. In these markets, prices have remained crushed (we'll get to those in a moment). But the national median price throws all of them into the same bucket.
The first-quarter surge of the national median price was the biggest year-over-year gain since the first quarter of 2008 and the 16th year-over-year rise in a row. The year-over-year declines started in Q4 2008 and lasted through Q1 2015 — seven-and-a-half years of Housing Bust 1!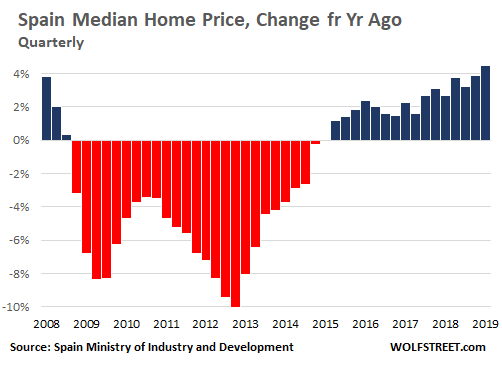 The current price resurgence pales compared to Housing Bubble 1. Between 1996 and 2003, the median price in Spain rose by 176% — meaning prices nearly tripled over the span of seven years. Since 2015, so over the last four years, the median price in Spain has risen 13.5%.