Lousy Durable Goods Data Sink GDP Forecasts for Q2
Lousy Durable Goods Data Sink GDP Forecasts for Q2 by Wolf Richter for Wolf Street
TDC Note – Don't forget to visit Ken Schortgen, Jim Willie, London Paul, Producer CJ and yours truly at The Gadfly – one week FREE TRIAL and I can assure you, you will want to stay! By supporting The Gadfly you support The Daily Coin
####
Sign the already weak goods-based sector is getting weaker.
Boeing, where art thou? Boeing is suffering from a sharp decline in orders, and this translates into a sharp decline in orders for "civilian aircraft" in the durable goods data trove released this morning by the Commerce Department. But it's not just Boeing. It's broader and deeper, and it caused forecasts for GDP growth in the second quarter to get slashed.
Orders for durable goods – such as cars and appliances and other items designed to last at least three years – fell 2.1% in April compared to March, to $248.4 billion (seasonally adjusted), and were down a smidgen from April last year, the first year-over-year decline since January 2017, which had been the tail-end of the two-year-long decline in the US goods-based sector.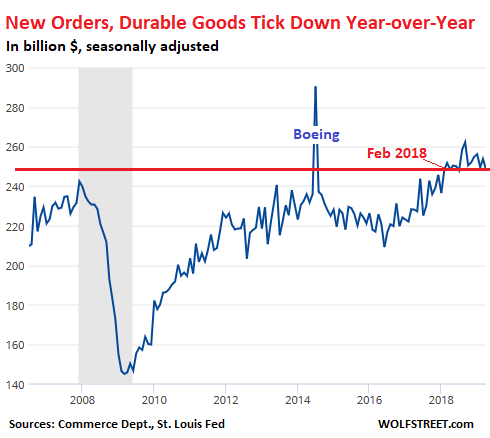 In the chart above, the historic spike in orders in July 2014 was caused by Boeing when it reported a huge order of 324 aircraft in the month.
The year-over-year decline in orders in April comes after February and March had been essentially flat year-over-year. This makes three months in a row of no growth when compared to the same period last year. And the data for orders in March still hadn't been impacted by the Boeing fiasco that was just getting started.
Shipments of durable goods – goods that had been ordered in prior periods and were shipped in April – fell 1.6% in April from March, to $253.3 billion. They've been ticking down fairly consistently from their peak in December. Thanks to strength last year, shipments in April remain up 3.2% year-over-year.
This chart shows the year-over-year percentage change in Shipments. Note the period in 2015 and 2016 – the "transportation recession" – because a decline in shipments causes a decline in the transportation sector. At the time, for the year 2016, GDP grew at a miserably slow 1.6%: