Theresa May Cries As She Announces June 7 Resignation
Theresa May Cries As She Announces June 7 Resignation from ZeroHedge
TDC Note – I'm crying also – tears of joy!!! hahahaha
####
Update: Though it's initial reaction was muted, GBP has moved decidedly higher in recent trade (after a brief selloff following May's announcement), putting the British currency on track to end its record two-week losing streak of uninterrupted declines.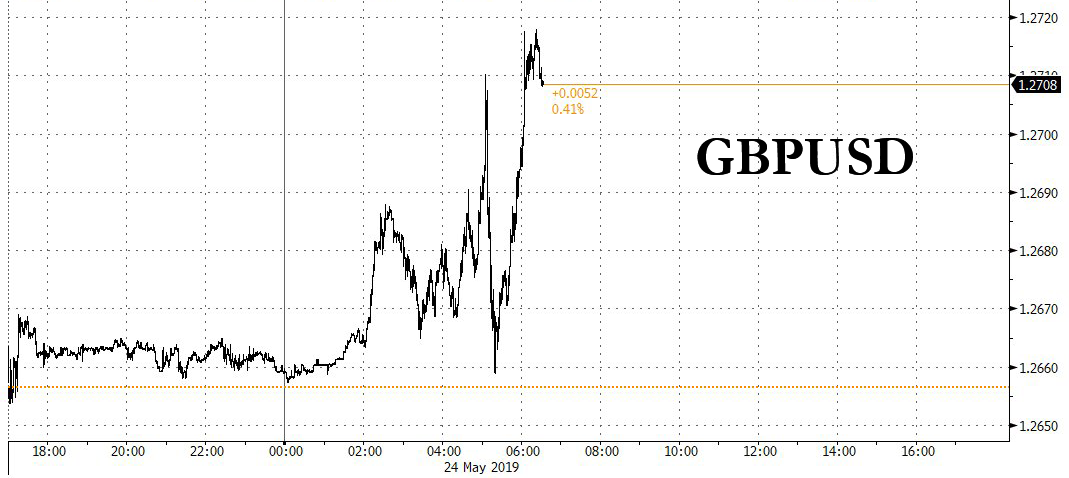 Conventional wisdom would dictate that May's resignation could open the door for Brexiteers to seize control of the Conservative Party and steer the UK toward a 'no deal' exit. So why is the pound rallying? Lars Merklin, a strategist at Danske Bank, has a theory.
The pound's advance after Prime Minister Theresa May said she would be stepping down shows that her resignation does not necessarily mean a no-deal Brexit, according to Lars Merklin, a strategist at Danske Bank.

"We view the GBP move as being in line with our expectation: this is not a straight road to a no-deal Brexit," Merklin says. "The market pricing in past weeks have slipped towards that direction."

"We see the risk in favor of a stronger GBP."

The lack of a further sell-off or trend break is in itself a signal that markets are not adding to the odds of no-deal, which makes sense, he says.
Then again, the Telegraph is reporting that the EU is preparing for a scenario where Johnson or Raab tries to change the Brexit deal, fails, then calls for an election. A general election would, we imagine, be GBP positive since it would raise the likelihood that Brexit is stymied.
EU source says gearing up for scenario where Boris/Raab tries to change Brexit deal on first trip to Brussels, and fails, then calls an election. At which point a change in the make-up of parliament could illustrate a way through deadlock.

— James Rothwell (@JamesERothwell) May 24, 2019
Meanwhile, for any traders wondering what's next for Brexit, here's a helpful flow chart.