Subprime Profit-Machine Hiccups: Credit-Card Charge-Offs Rise Across Banking System
Subprime Profit-Machine Hiccups: Credit-Card Charge-Offs Rise Across Banking System by Wolf Richter for Wolf Street
Impact felt by the real economy and the most vulnerable consumers.
In the first quarter, the credit-card "charge-off" rate at the 4,650 or so smaller US commercial banks – all banks other than the largest 100 banks – ticked down to 7.37%, the sixth quarter in a row above 7%. During the peak of the Financial Crisis, the charge-off rate at these banks was above 7% only four quarters, but not in a row, topping out at 8.9%. These smaller banks have taken a lot of risk in their credit card strategies in recent years, going aggressively after subprime customers that had run out of luck at the largest banks.
The credit-card charge off rate at the largest 100 banks rose to 3.78%, the highest since the first quarter of 2013. For all commercial banks combined, the charge-off rate rose to 3.83%, the highest since the fourth quarter 2012. The largest banks have learned a costly lesson during the Financial Crisis, when they got hammered with double-digit charge-off rates and have since focused on customers with lower risk profiles. And yet, slowly but surely, credit card charge-offs are rising across the board: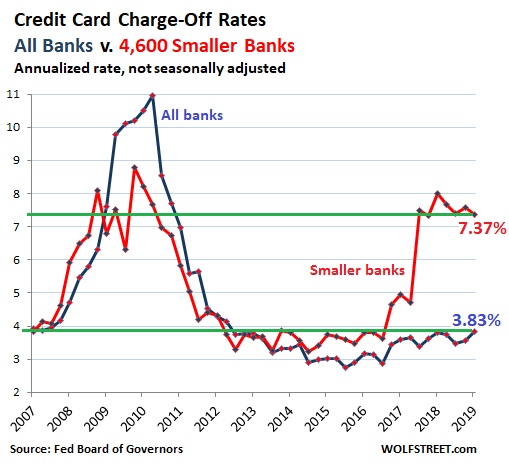 These data points that the Federal Reserve Board of Governors reportedTuesday afternoon are another warning in consumer land where serious auto-loan delinquencies, driven by subprime loans, have reached Q3 2009 levels. Credit cards have not yet reached this stage, but problems are beginning to pile up.
A credit card loan is deemed "delinquent" when it is 30 days or more past due. Balances are removed from the delinquency basket when the customer cures the delinquency, or when the bank "charges off" the delinquent balance (net of whatever it was able to recover) against its loan loss reserves. The charge-off rate is figured as a percent of average credit-card balances, and is annualized.
The delinquency rate on credit-card loan balances at commercial banks other than the largest 100 banks declined to 5.43%, after having spiked to 6.2% in the third quarter. During peak-Financial Crisis, the delinquency rate at these smaller banks topped out at 5.9%. So these smaller banks got walloped last year, and they're now scrambling to clean up, and tighten the lending standards.