E-Commerce Crushes Mall Retailers One by One. Here's the Data
E-Commerce Crushes Mall Retailers One by One. Here's the Data by Wolf Richter for Wolf Street
Brick-and-mortar department stores – the lucky ones still open – are on schedule to be toast.
E-commerce sales in the first quarter soared 12.4% from a year ago to $127.3 billion (not seasonally adjusted), the Commerce Department reported on Friday. Last year, e-commerce sales blew through the $500-billion level for the first time ($513.6 billion). For 2019, e-commerce is on track to hit $575 billion, an increase of $61 billion. Over the past five years, e-commerce sales have doubled. On a seasonally adjusted basis, e-commerce sales in Q1 hit an all-time high of $137.7 billion.
E-commerce includes sales by the online operations of brick-and-mortar retailers. The top ones have huge and thriving online operations: Walmart, Home Depot, BestBuy, and Macy's in that order are the fourth through seventh largest e-commerce sites in the US, behind Amazon, eBay, and Apple.
So this is the business Macy's brick-and-mortar stores are in: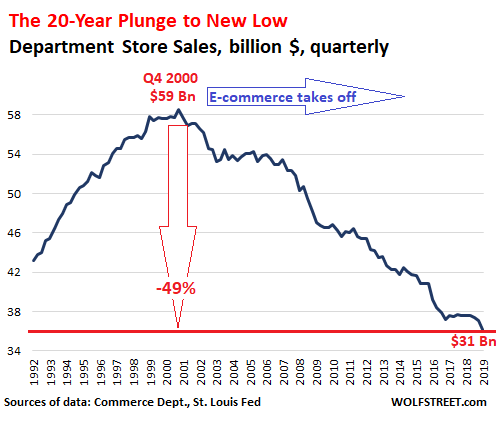 But none of the major retailers, with one exception, disclose just how much of their own booming e-commerce sales have eaten into their brick-and-mortar sales. They brag about percentage growth of their e-commerce sales, but refuse to disclose the booming dollar-terms of their e-commerce sales and the dreadful dollar-terms of their brick-and-mortar sales. They have a large amount of money tied up in their physical stores, and so it's better to keep investors in the dark about the performance and ultimate fate of those stores.
The exception is Nordstrom. Last year, it started disclosing the dollar terms of its "digital sales." By Q4, its digital sales were 33% of its total sales.
Macy's, for example, just reported a decline in net sales in Q1 compared to a year ago, but "double-digit growth in our digital business" – the only thing Macy's said about its e-commerce sales. With overall revenues declining and e-commerce sales booming, its brick-and-mortar operations must have been beset by plunging sales. But Macy's keeps this data secret.
To obfuscate this fact further, Macy's and other retailers now include their digital sales in their "comparable sales" metrics – formerly called "same store sales." So these "comparable sales" no longer say anything at all about the sales at brick-and-mortar stores.