The Liberal Freakout Has Begun – Newly Revealed Information Shows The Deep State Is In Deep Trouble As They Start Turning Against Each Other
The Liberal Freakout Has Begun – Newly Revealed Information Shows The Deep State Is In Deep Trouble As They Start Turning Against Each Other By Susan Duclos – All News PipeLine
Immediately after the New York Times published a report that Attorney General Bill Barr had tapped John Durham, a longtime Justice Department official who was nominated by President Trump to be the U.S. attorney in Connecticut, and confirmed by Congress, to lead the investigation into the origins of the FBI's Russia probe, the liberal freakout began.
Headlines like "Barr orders third investigation of Trump's crazy theory about the FBI,"  and "Bill Barr Is A Wartime Consigliere," and "AG Barr launches probe into Russia investigation origins, stoking Trump's 'spying' conspiracy theory," were seen from liberal bloggers, and the mainstream media headlines were more subtle, to the point where it appears some, like CNN were attempting to intimidate the federal prosecutor tapped by Barr.
Here is CNN's promotional on Twitter: "A federal prosecutor's "apolitical" reputation is on the line as he helps Attorney General Barr review the origins of the Russia investigation."
Is that a subtle threat to destroy Durham's "apolitical" reputation if he concludes and prosecutes high level former intelligence officials under Obama?
More over-the-top meltdowns by the mainstream media can be seen at RedState.
The reason that liberals, Democrats, the MSM and former Obama officials are freaking out is because Durham is well known for exposing FBI and CIA corruption, via The Daily Signal:
He examined whether two Boston mob figures, Bulger and Stephen "The Rifleman" Flemmi, had corrupted the FBI agents whom they served as informants.

Durham's investigation led to a 10-year prison sentence for retired FBI agent John Connolly Jr., found guilty of helping the two gangsters avoid prosecution.

As part of this investigation, Durham produced documents showing four men had been framed by FBI agents and convicted of murder in the 1960s. Two died in prison, but two others won a $100 million civil judgment against the Justice Department.
Durham also led probes into the CIA's handling of terror detainees, and led some of the biggest public corruption cases in Connecticut.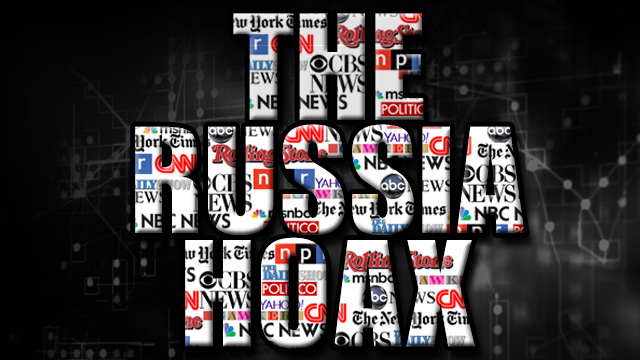 DURHAM HAS BEEN PART OF THESE INVESTIGATIONS FOR MONTHS, NOT WEEKS
As part of the media's coverage of Barr tapping Durham to "investigate the investigators," they claimed that Durham has been working on this for "weeks," but according to Congressional transcripts of their interview with former top counsel for the FBI, James Baker, we see that Durham has been involved in investigating some of these issues for more than eight months.
Here is how CNN phrased it: "CNN reported Monday that Durham has already been working on the internal review for weeks, according to a source familiar with the matter….." other media outlets asserted the same thing.
Reports also came out in a flurry on Tuesday showing that AG Barr is also working in close coordination with CIA Director Gina Haskell, and the Director of National Intelligence (DNI) Dan Coats. Furthermore, Durham's review is much wider than just the FISA process and he is working directly with the DOJ's Inspector General's office.
In response to a Twitter thread from White House Correspondent, Kevin Corke, I ran across a screen shot claiming that during congressional testimony back in October 2018, John Durham was directly named as already being involved in an "ongoing investigation."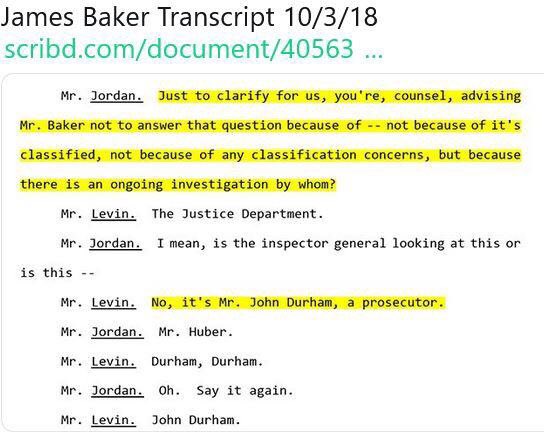 Of course screen shots can be doctored or photoshopped, so we found the original 152 page PDF transcript from Baker's congressional testimony that was published by Rep. Doug Collins, and sure enough, on page 37, that exchange is part of the record.