Amazon Butts in on Google-Facebook "Duopoly" in the Huge Business of Internet Advertising. Publishers Hung Out to Dry
Amazon Butts in on Google-Facebook "Duopoly" in the Huge Business of Internet Advertising. Publishers Hung Out to Dry by Wolf Richter for Wolf Street
Here are the latest numbers.
Spending on internet advertising in the US jumped 21.8% in 2018 to $107.5 billion, and is up 117% in four years, according to the annual report commissioned by the Interactive Advertising Bureau (IAB) and conducted by PwC. This is the amount that advertisers such as Ford or P&G spent on internet ads in the US. My WOLF STREET media mogul empire is at the far end of this sector, successfully picking up crumbs.
There are two diverging dynamics: Ad spending on laptop/PC platforms (blue columns) has been declining since 2015, as advertising on mobile platforms, such as smartphones and tablets, (red columns) is rocketing higher – from a share of close to zero in 2010 to a share of 65% in 2018: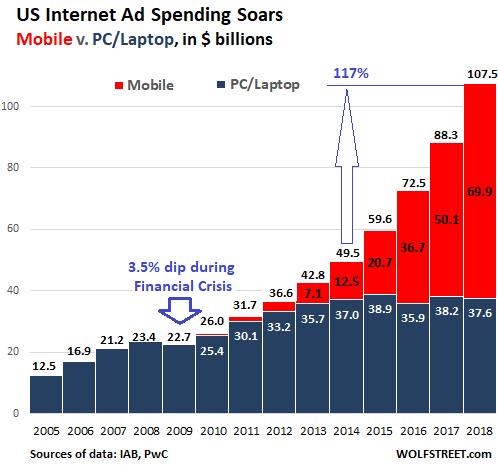 Internet advertising, at $107.5 billion, accounted for 39% of total advertising dollars of $274 billion spent in the US in 2018. TV, the top dog through 2015, is now in a distant second place with $71 billion and a share of 26%.
Year-over-year, advertising spending declined in the two segments that have been getting crushed for years: "paper" newspapers (-7%) and "paper" magazines (-2.1%). All other media types gained ad dollars, but in only the low single digits, except video-game advertising, which grew by 9.7%. However, internet advertising with a 21.8% growth rate the largest base by far widened the gap rapidly ("OOH" = out-of-home advertising, such as billboards, ads inside public transit, etc.):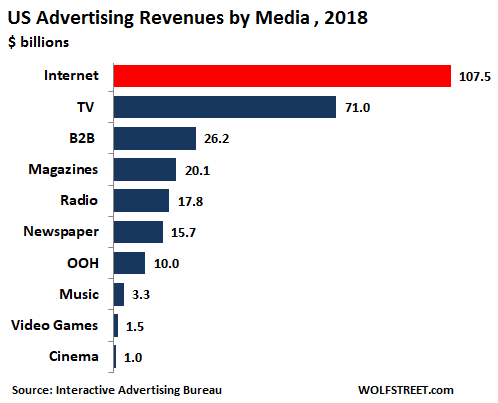 And just 10 companies took in 75% of this $107.5 billion, the report says without naming these companies. But we know the top five.
Google, Facebook, and Amazon are the top three, according to eMarketer: Google took a share of 38.2% of all internet advertising revenues in the US in 2018, and Facebook a share of 21.8%. Combined, the "duopoly" hogs 60% of all internet ad dollars in the US.