QE Party Over, Bank of Japan Stealth-Tapers Further
QE Party Over, Bank of Japan Stealth-Tapers Further by Wolf Richter for Wolf Street
Straggler behind the Fed and the ECB gets the drift.
Total assets on the balance sheet of the Bank of Japan at the end of April ticked up from March but were flat with the record in February: ¥562 trillion ($5.1 trillion). This amounts to a gigantic 102.2% of nominal GDP. But the BOJ has been tapering its asset purchases since peak QE at the end of 2016, and the growth has slowed to a snail's pace, by Abenomics QE standards.
Despite the BOJs repeated promises of adding ¥85 trillion to its balance sheet every year, the BOJ hasn't done that since peak QE in 2016 when it added ¥93 trillion. The additions have consistently decreased since then. Over the 12 months through April, it has added merely €27 trillion, the lowest 12-month increase since early days of ramping up Abenomics in March 2013. This amounts to a stealth taper: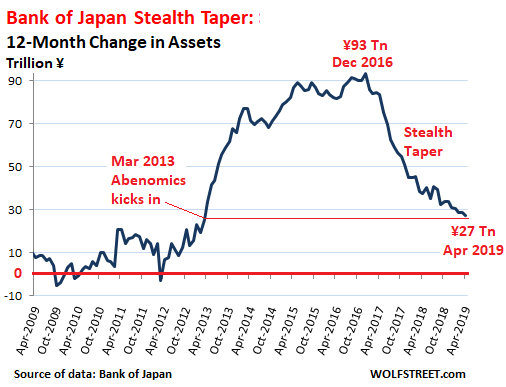 Meanwhile, the government of Japan has been borrowing and issuing new debt with reckless abandon, and the gross national debt outstanding has ballooned to ¥1.12 quadrillion, or 203% of nominal GDP (measured in yen).
But no problem: the BOJ started buying every Japanese government security that wasn't nailed down, with the government selling new securities to the banks, and the banks selling them to the BOJ for a small profit. In addition the BOJ mopped up what was coming on the market. The BOJ now holds 43% of all outstanding Japanese government securities, up from 25% in January 2015.
These massive purchases of Japanese government securities, and to a lesser extent, the purchases of corporate bonds, equity ETFs, and Japan REITS, have created this enormous balance sheet, but note the flattening spot at the top, a result of the stealth taper: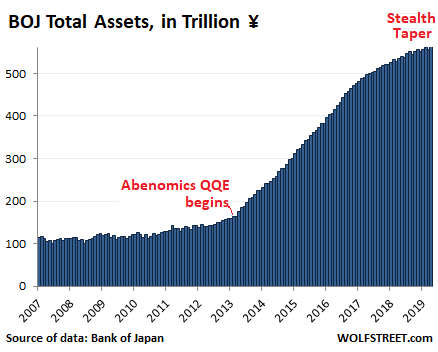 The stealth taper has reached a level to where the assets added to the balance sheet are small enough that every third month, as long-term securities mature and roll off the balance sheet, the balance sheet shrinks. Then the next two months, the balance sheet gains: