The State of the American Debt Slaves, Q1 2019
The State of the American Debt Slaves, Q1 2019 by Wolf Richter for Wolf Street
It's a tough job, but someone's doing it.
Consumer debt – or consumer "credit" more euphemistically – includes auto loans, student loans, credit-card debt, and personal loans, but it excludes housing related debt, such as mortgages and HELOCs. Growing consumer debt helps prop up the US economy because it means that consumers – they're called "consumers" not "people" for a reason – spend money they don't have. There is always a reckoning in the future, but to heck with the future, and so here we go.
Revolving credit
Credit card debt and other revolving credit, such as personal lines of credit, in Q1 rose 3.4% compared to Q1 last year, to $1.0 trillion (not seasonally adjusted), according to the Federal Reserve Tuesday afternoon. This was a record for a first quarter, when consumers cut back while they try to dig themselves out from under their shopping season debts. But it wasn't good enough. Credit card balances in Q1 were flat with Q4 2008, despite a decade of inflation, population growth, and economic growth. Our debt slaves are lackadaisical: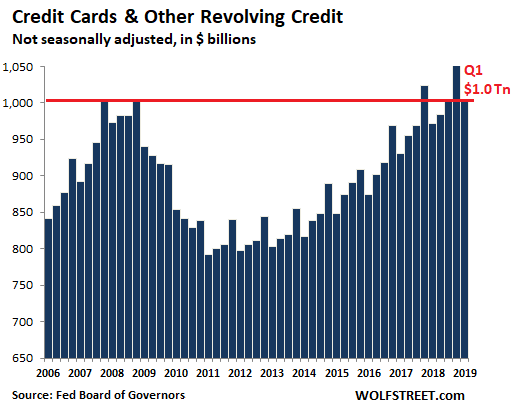 The thing is, over the same period, nominal GDP rose 5.1%. And in terms of GDP, credit card debts actually fell, which explains the soft-ish retail data in the first quarter. In a very un-American way, consumers were again lackadaisical in charging up their credit cards to the max.
Credit cards are a key element in the banking industry's profits. At commercial banks, the average interest rate on credit-card plans is 15.1% and the average assessed interest rate is 16.9%, on $1 trillion in outstanding credit balances. This amounts to around $150 billion to $169 billion a year in interest income! These banks rely on consumers to spend money they don't have. So why don't they consume with sufficient energy?  That's a baffling question for economists.