London Home Prices Had Biggest Monthly Drop Since Lehman
London Home Prices Had Biggest Monthly Drop Since Lehman from Wolf Street
February was bad. Housing market weakness is now spreading out from London.
By Don Quijones, Spain, UK, & Mexico, editor at WOLF STREET.
London home prices in February took their biggest one-off hit since the dark days of the last crisis, according to data published Thursday by the UK's Office of National Statistics. The average price of a residential property in London tumbled 2% in February from January, the sharpest monthly drop since November 2008, when the City was grappling with the fallout from the Lehman Brothers bankruptcy. For the 12-month period, the average price dropped 3.8%, the sharpest year-over-year fall since August 2009, during the Global Financial Crisis. The average home in London is now worth £459,800 ($600,000), down 5.9% from the peak in July 2017: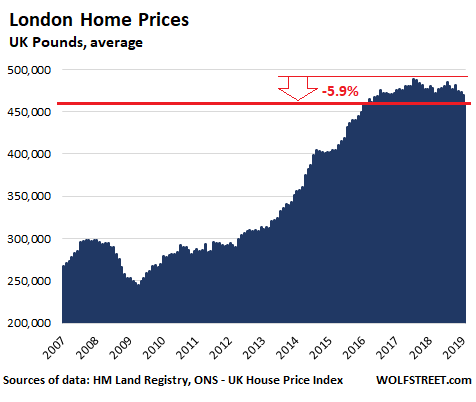 But it's still more than double the median UK home price (£225,000). In other words, while prices may have moderated somewhat they're still well beyond the reach of average Londoners. Here are some more standouts from the ONS report:
The slowdown is spreading out from London. Home prices in the south east of England recorded an annual decline (-1.8%) for the first time since 2011. Prices also fell in the North East and remained virtually unchanged in Yorkshire and the Humber.
Home price annual growth is slowing in England; prices tick down in Scotland. Home price growth has been gradually slowing ever since the summer of 2016, when a majority of British voters voted to leave the EU. Over the year to February 2019 the average home price in England rose by just 0.4% , down from 1.4% in January 2019. In Scotland prices slipped by 0.2%, down from a year-on-year rise of 2.4% in the previous month.
In the UK as a whole, the average home price increased by just 0.6% from a year earlier. It's the slowest rate of growth since late 2012.
Prices did increase in a few places. Home price growth was strongest in Wales and the North West, increasing in both regions by 4.1% in the year to February 2019.
It's a very different story in the capital, which during the first decade and a half of this century enjoyed much faster home price growth than the rest of the country but which is now suffering a much sharper slowdown. The most exclusive boroughs of the city center — often referred to as Prime Central London — have been hit hardest, with prices falling an estimated 14% from their 2014 peak.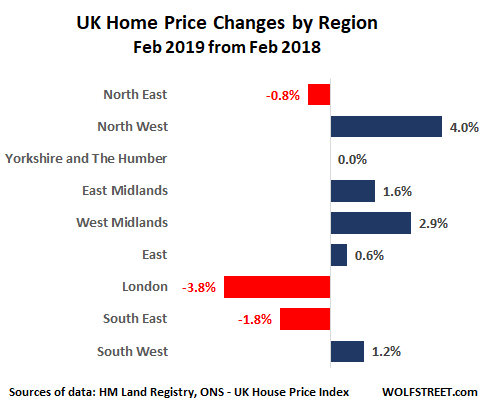 "The London sales market is in a prolonged downturn and the current uncertainty surrounding Brexit is clearly impacting consumer confidence," Foxtons, one of London's largest real estate agencies, said in its latest annual report. "We do not expect market conditions to improve significantly until the political and economic landscape becomes clearer."