Corporate Media Shows Their True Colors & Downplays 'Radical Islamic Terrorism' In Sri Lanka
Corporate Media Shows Their True Colors & Downplays 'Radical Islamic Terrorism' In Sri Lanka By Susan Duclos – All News PipeLine
Liberals Attack Christians After Churches Bombed: 'Don't Send Your Prayers'
Nearly 300 people were brutally murdered and another 500 injured on Ressurection Day/Easter in Sri Lanka when radical Islamic extremist suicide bombers attacked churches and luxury hotels. WSJ reports that Health Minister Rajitha Senaratne spoke to reporters and told them all the bombers identified so far were Sri Lankan citizens.
Sri Lankan officials believe a group of "Islamic militants," National Thowheed Jamath, was behind the attack, though no group has publicly claimed credit.
Authorities took 24 people into custody in connection with the bombings, making arrests in several locations in and near the capital, Colombo, where the bombings were focused. Police said they discovered 87 detonators, apparently abandoned, at a private bus stand in the capital. The government has ordered round-the-clock security at all churches.

There were at least eight explosions, most blamed on suicide bombers. Six of the attacks were coordinated and were carried out by seven suicide bombers, according to a preliminary examination of scattered body parts by the country's official experts. Two men appear to have blown themselves up at the Shangri-La Hotel in Colombo, said Ariyananda Welianga, a government investigator who studied the bodies, while single bombers attacked two other high-profile hotels and three churches.
The AFP reports the U.S. has issued an update travel advisory urging "increased caution," and stating "Terrorist groups continue plotting possible attacks in Sri Lanka," and detailing the types of targets, including "tourist locations, transportation hubs, markets/shopping malls" and other public locations like hotels, clubs, restaurants, and places of worship."
The investigations are ongoing and reporting is limited due to Sri Lanka blocking access to social media in their lock down and attempt to control information.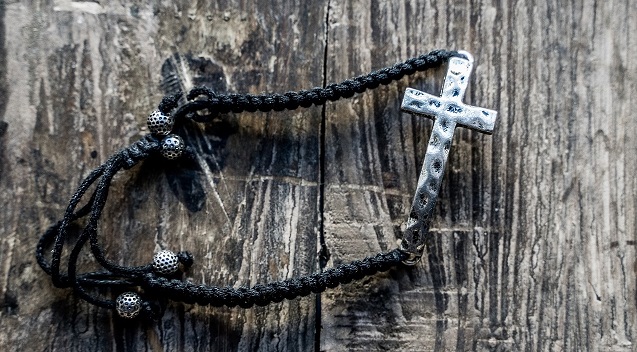 A TALE OF TWO ATTACKS AND HOW LIB MEDIA COVERED THEM DIFFERENTLY

Media: While some media outlets that lean further to the right than liberal media outlets like CNN, NYT and Wapo, are accurately describing the National Thowheed Jamath as a "radical Muslim terror group," CNN managed to provide 67 updates in a 24 hour period, and according to those that have been observing those updates, only once in their lives updates did they use the term "Islamic extremists."
I scanned the entire series of live updates they've been doing since the news broke. It's all within one long story, making it easy to search for individual words, so I did. The results were depressing but expected. Even at this late hour, they still have not acknowledged the possibility that the act was committed by Islamic terrorists.

The closest they came to blaming radical Islamic terrorists in their primary coverage story was a mention in a quote by Diplomatic editor Nic Robertson in which he notes the obvious – that it has the "hallmarks" of Islamic terrorism – but then quickly notes that there are no known radical Islamic terrorist groups in the area.
The writer also searched for how many times CNN mentioned the word Muslim and found four mentions: Two in breaking down the percentage of Muslim population in Sri Lanka; Once to warned against reprisals against Muslims, and; Once to state there have been attacks against Muslims by Buddhist groups.
Following up on CNN's live updates page this morning, I did find one reference to "Radical Islamic terrorism," but only as a direct quote from US Secretary of State Mike Pompeo, who said "Radical Islamic terrorism remains a threat. The president has been very clear about that, I think I have been very clear about that. We are continuing to do real work against these evil human beings that went into places of worship on Easter Sunday."
Compare that type of coverage to how CNN described the shooter of the Christchurch mosque attacks, which CNN called a "hate-filled attack," saying his manifesto was "filled with anti-immigrant, anti-Muslim ideas."
Throughout Resurrection Day aka Easter Sunday, searches for the tragic news of Sri Lanka brought about the now familiar theme of Independent and conservative Media including the details of who has been blamed for the multiple bombings in their articles, while liberal media avoided using the factually correct terminology for as long as possible, before finally being forced to.
LIBERALS ATTACK CHRISTIANS AFTER CHURCH BOMBINGS: 'DON'T SEND YOUR PRAYERS'
After the mosque attacks in New Zealand, Christians and conservatives took to social media to offer condolences and prayers for the victims and the families and friends, the Muslim community and for New Zealand after such horrendous attacks, while liberal screamed about gun control, but after the multiple suicide bombings in Sri Lanka on Sunday, rather than offering prayers and condolences for the Christians massacred while celebrating holy day, liberals instead spewed hatred and vitriol against Christians with one man actually telling people "Don't send your prayers," after attacking Christians.
Andy West, who has a verified Twitter account, who self-describes as a journalist, shared a story from Daily Mail about the Si Lanka bombings, along with his own message of hate, stating "There is no excuse for terror attacks against innocent people but as a journalist I saw Western Christian missionaries unscrupulpusly converting Buddhist orphans for food and shelter after the Asian tsunami. Don't send your prayers."
As can be seen in the screen shot below, 859 people "liked" his comment.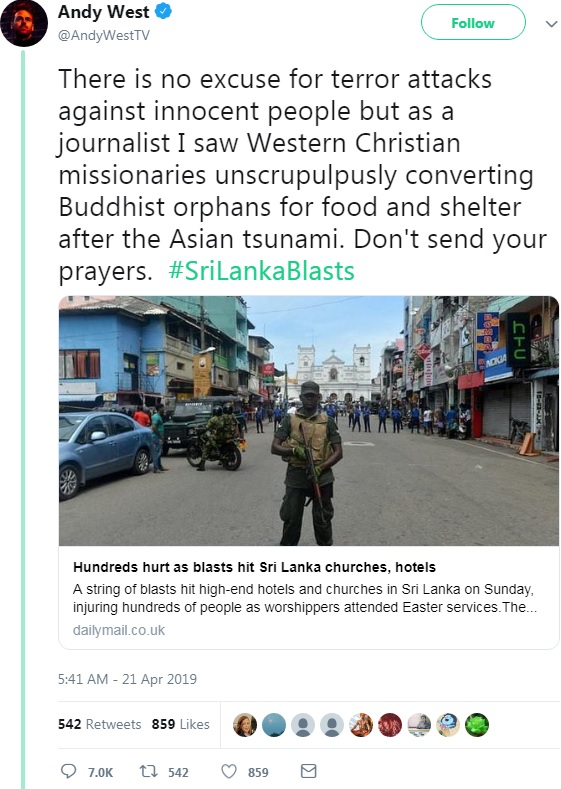 Needless to say that was not his only disgusting comment and other social media users took him to task, as documented by Twitchy.