Three Twits Of Tyranny Helping To Split Democrats Creating War With Each Other
Three Twits Of Tyranny Helping To Split Democrats Creating War With Each Other By Susan Duclos – All News PipeLine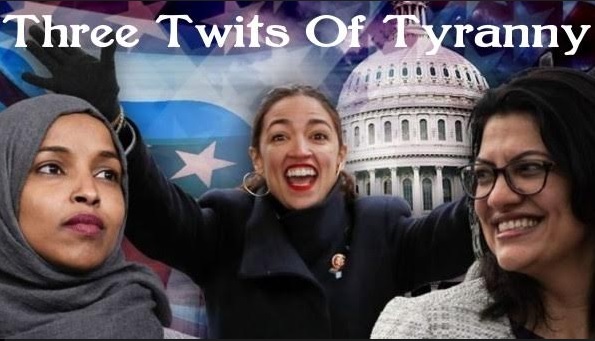 Democrats, as a party, are able to agree on just one thing… ORANGE MAN BAD, and that is the only time they seem capable of uniting with each other.
In just the last week we have seen a liberal think tank attacking progressive Democrat presidential candidates, so Bernie Sanders, one of those candidates being attacked is slamming the liberal think tanks, as the Democratic Congressional Campaign Committee (DCCC) Chair mocks the loud-mouth, gaffe-prone CongressKid Ocasio-Cortez over her donation boycott tweet, while the anti-Semite Ilhan Omar has suffered yet another case of Foot-in-Mouth scandal, and the third Twit of Tyranny, Rashida Tlaib, decides to attack the entire leadership of the Democrat party.
BERNIE SANDERS ACCUSES LIB THINK TANK OF ATTACKING HIM & OTHER PROGRESSIVES
We'll start with Bernie, who recently sent a scathing letter to liberal think tank Center for American Progress (Founded by John Podesta), and CAP Action Fund, expressing his "deep concern," over a recent Think Progress article (propaganda arm for the group), and other prior articles that have criticized him and other Democrat presidential candidates.
The letter states in part:
Last week, you published an article on ThinkProgress criticizing me for my appearance and for the income I earned from writing a book. Then, a day later, you published a video that dishonestly attacked me for hypocrisy in my effort to address income inequality in America – a video that was excitedly discussed on many conservative websites.

Sadly, I'm not the only candidate in the 2020 field who has experienced personal attacks from your institution. My friend and colleague Elizabeth Warren was unfairly targeted by a November 2017 article on ThinkProgress that echoed Donald Trump's bad faith claims that she was being a hypocrite about her ancestry. That attack that was linked on the Drudge Report and immediately immersed her into a rather unhelpful debate. Again in October 2018, you published an article stating that she was hurting Native American people.

That's not all. In February of this year, an article on ThinkProgress attacked another friend and colleague of mine, Cory Booker, for moving in a progressive direction and joining with me on a prescription drug importation bill.
Some consider this a shot across the bow in light of what the DNC,  and Hillary Clinton did to him in 2016, with the DNC actively working against him while working for Clinton in order to rig the primaries in her favor.
DCCC CHAIR MOCKS LOUD-MOUTHED, GAFFE-PRONE CONGRESSKID
This one goes back a bit, so a brief recap and I will just link to the appropriate articles for verification purposes, before getting to most recent part of this saga.
One of the "three twits of tyranny," CongressKid Alexandria Ocasio-Cortez, backed an effort reported on in January 2019, to primary incumbent "moderate" Democrats, and by March she was threatening any Democrat that didn't toe the line and vote in lock-step with the party, telling them she would put them on a "list," to be unseated. Also in March, the Democratic Congressional Campaign Committee (DCCC) decided on a new policy to "not do business with political consultants and firms that help candidates challenging Democratic members of Congress next year."
By the end of March, the CongressKid decided it would be a good idea to tell her nearly four million followers to "pause your donations to DCCC & give directly to swing candidates instead," then provided a list of those she called "great ones," while linking to their individual donation pages.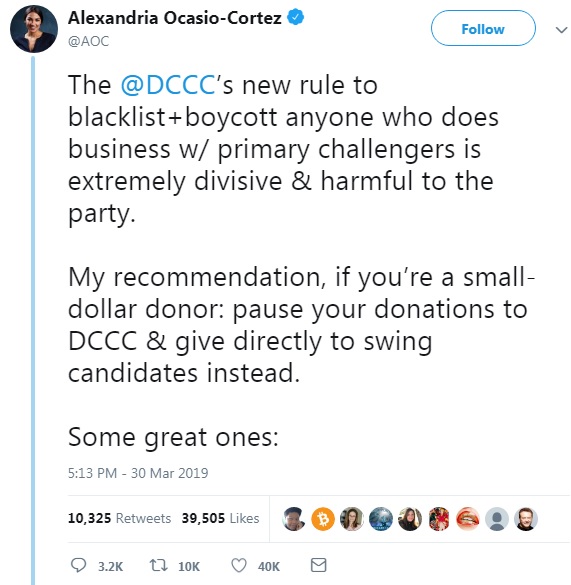 Which brings us to the DCCC Chair, Rep. Cheri Bustos, appearing on CNN's 'New Day,' was asked about the standoff, when she sarcastically informed viewers that the Ocasio-Cortez's donation boycott strategy "worked so well that we had record fundraising numbers in the first quarter."