CHINA CAN'T SAVE THE GLOBAL ECONOMY AGAIN
CHINA CAN'T SAVE THE GLOBAL ECONOMY AGAIN by Michael Pento for Pento Portfolio
China has acted as part of the life support system for the global economy during the past two decades. The other part being comprised of central banks. When the Tech Bubble burst back in 2000, China began printing and borrowing an incredible amount of money to create demand for fixed assets. After the Great Recession struck in 2008, Beijing again reacted with a massive government stimulus package that helped further inflate its real estate bubble and placed a pervasive bid under global markets. It was much the same in the wake of the global slowdown and earnings recession in the U.S. in 2016. In fact, China has been a humongous tailwind for growth since 2000; taking on about $38 trillion in new debt, which amounted to an incredible 150-percentage point increase in its debt to GDP ratio.
Because of this untenable debt load, China recently began a much-needed policy of deleveraging, leaving many to speculate how long the global economy can sustain itself without its main growth engine. After all, the Red Nation had been responsible for roughly a third of global growth since 2008. However, and regrettably, China's flirtation with austerity did not last very long. Authorities have now begun to reset priorities away from reigning in the nation's $40 trillion worth of debt and are instead seeking to prop up the economy with yet more debt.
Some of the debt ratios in China not only exceed that of the U.S. but are also estimated to be twice as high as that of the average emerging market economy. Total debt has more than quadrupled since 2007. Total debt including household, corporate and government increased from 160% of GDP in 2008 to over 304% of GDP in 2018, according to the Institute of International Finance.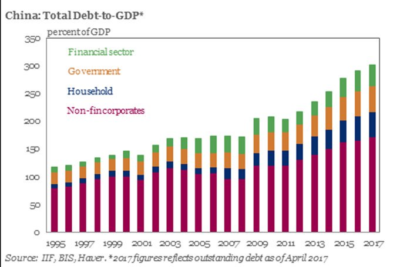 And all this begs the question: With its massive debt load, does China have the gas left to fuel the global economy, or has Wall Street misplaced its faith in an ersatz economic savior and a resolution to the trade war?
For the past three decades, China has been the global growth darling of the world and Wall Street. The communist nation has averaged GDP growth of 9.9%  from 1979 to 2010, according to the World Bank
Under its unique combination of communism and capitalism, China's growth seemingly defied the laws of economics and the business cycle. But a cursory look beneath the surface exposes China's economic miracle was continuously levitated by a dangerous mountain of debt.
While the central government in China holds little debt and enjoys healthy foreign currency reserves, regional government debt, household debt, and corporate debt have exploded. Regional governments in China provide schools, hospitals, and transportation services. However, they have almost no power to raise taxes and receive very little of the taxes levied in their territory. These localities balance their budget by issuing Local Government Financial Vehicles (LGFV). This type of debt is extremely opaque, making it difficult to accurately calculate the actual level of indebtedness, but it ranges between $5 trillion to $7 trillion, according to CHEN, Z. China's Dangerous Debt: Foreign Affairs.