New Zealand Broadcasts Islamic Call to Prayer Nationwide, PM Dons Hijab
New Zealand Broadcasts Islamic Call to Prayer Nationwide, PM Dons Hijab by Jack Montgomery for Breitbart
TDC Note – The satanic globalist in New Zealand seem to have jumped the shark this time. I can not even imagine how the citizens of New Zealand feel about this show of lunacy, degradation and out right display of nonsense shown by these Cretans. Let's see if these same people carry a cross or even mention Christ in the next slaughter of Christians by a group of muslims. I don't know about you, but I'm not holding my breath.
####
New Zealand has commemorated the victims of the Christchurch mosque shootings by broadcasting the Islamic call to prayer nationwide during a two-minutes' silence, with the Prime Minister and many other non-Muslims donning veils for the occasion.
The act of remembrance was organised to mark one week since a suspected far-right terrorist killed 50 people in shootings at two mosques, streamed live on Facebook.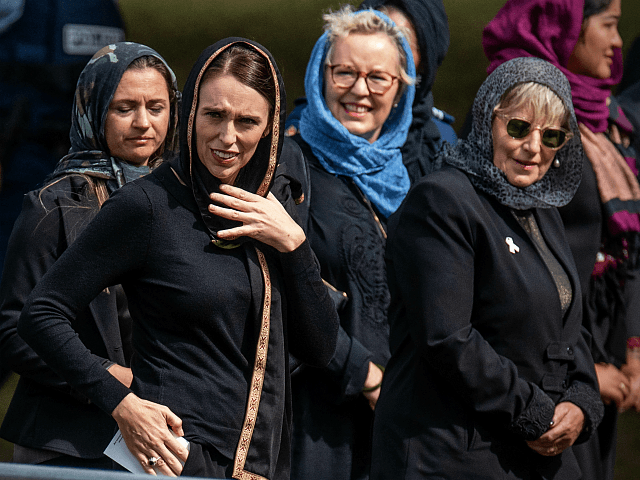 Carl Court/Getty Images
[TDC Note – That image is almost too much to even stomach. Just remember, there is no war on Christianity.]
New Zealanders across the Pacific country stood in silence for the Islamic call to prayer, or adhan, which the BBC translates from Arabic as "God is great, there is no God but Allah. Muhammad is the messenger of Allah. Come to prayer" — although many argue that "Allahu akbar" is more accurately translated as "[our] God is greater" rather than "God is great".
Call to prayer rings out in New Zealand marking one week since deadly mosque attacks pic.twitter.com/HvbRaFMmgd

— The Independent (@Independent) March 22, 2019
Prime Minister Jacina Ardern wore an Islamic headscarf, or hijab, for open-air prayers which she attended in Christchurch's Hagley Park, near the Al Noor mosque, and was joined by a number of other non-Muslim New Zealand women who organised online under the hashtags #HeadscarfForHarmony and #ScarvesInSolidarity.
"According the prophet Mohammed… The believers in their mutual kindness, compassion and sympathy are just like one body," the Prime Minister told the assembled mourners.