'Hands Off Our Gold Bars' Say Central Bankers to Politicians
'Hands Off Our Gold Bars' Say Central Bankers to Politicians by Adrian Ash for Bullion Vault
Lawmakers challenge bullion reserves policy…
With CENTRAL BANKS as a group buying gold bars at the fastest pace last year since the 1960s, officials from London to Sydney now find themselves challenged about the gold bullion they hold by politicians.
"Like the rest of the Bank of Italy's assets, its gold cannot be used for monetary financing by the Treasury," said Rome's central-bank governor Ignazio Visco last Monday.
"These things are not hard to understand," Visco went on, repeating his rebuke to politicians from the anti-establishment Five Star Movement (M5s), now in coalition with the right-wing Lega Party and wanting to sell some of the Banca d'Italia's 2,451-tonne holding – the world's 3rd largest national hoard of gold bars – to cut Italy's budget deficit.
"I have been accused of keeping our gold reserves abroad," said Romania's central-bank chief Mugur Isărescu last month, pushing against demands from Bucharest's ruling Social Democratic Party that the National Bank's 103-tonne holdings should be lent out to earn an income, with all but 5% moved home from the Bank of International Settlements in Basel, Switzerland and the Bank of England in London.
"Where would you rather have them kept? They are international reserves; do you think we keep Euros and Dollars in the basement of the central bank? They are kept in accounts."
"[But] you keep your jewels at home, you do not keep them at your neighbors, nor do you pay rent to keep them at your neighbors," counters Senator Serban Nicolae, co-signer of the proposed law with the SDP's president Liviu Dragnea – barred from taking the job of Prime Minister by two convictions for vote-rigging but widely seen as Romania's de facto leader.
"Nothing in Romania's economic situation justifies keeping such an amount of gold abroad and paying the implicit costs."
"Most of the world's gold holdings are in London because that's where the bulk of the transactions occur," said Guy Debelle, Deputy Governor of the Reserve Bank of Australia, speaking to the Australian Parliament's Standing Committee on Economics in February.
If Australia's near-80 tonnes of gold bars weren't stored at the Bank of England, said RBA chief Philip Lowe at the same hearing, "we'd have to store it here in our vaults, and there'd be extra guarding.
"It's quite efficient to store most of the world's gold in one spot."
The Bank of England itself faced questions over its custody of gold bars last month after telling UK politicians they mean it cannot rent out part of its historic City of London HQ as they suggested.
Holding 5,047 tonnes at last count for foreign central banks and the UK Treasury – around one-sixth of all official bullion bar reserves worldwide – "Is there any reason the gold has to be in the basement of Threadneedle Street?" the Bank's chief operating officer and chair of directors were asked by Labour MP Meg Hillier, chair of the UK Parliament's Public Accounts Committee.
"[Because] if you are making it easier for staff to work at home, will there be any thought of renting out [parts] of Threadneedle Street?" she asked of the Bank's historic HQ. " Will we see a Wetherspoon's[pub]…?"
"We have a very sound security system," replied Bradley Fried, chair of the Court of Directors, "and candidly many central banks and governments wish their gold to be stored at the Bank of England."
On a 12-month basis, the size of gold bullion-bar holdings at the Bank of England has moved in the same direction as US Dollar gold prices two-thirds of the time (66.3%) since January 2011, the earliest data available.
That connection grows stronger if the change in prices is lagged by 6 months, with the quantity of gold bars held in custody at the Bank of England rising or falling together with gold prices 77.1% of the time on a 1-year basis.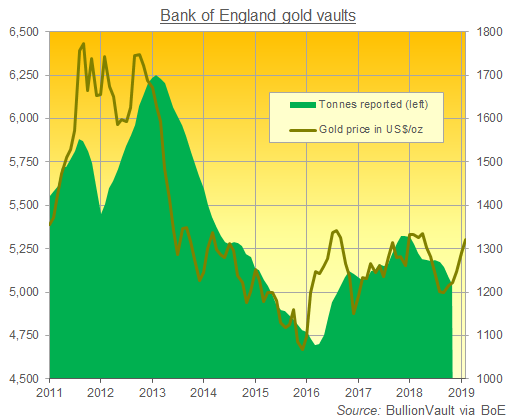 The Bank of England has also been asked both by UK Conservative MP Andrew Lewer and by Venezuela's self-declared interim president Juan Guaidó to continue refusing the release of gold bullion bars it holds in custody for the Latin American nation – a block apparently made more urgent by US sanctions against nations and institutions doing business with the elected socialist Governent of President Nicolás Maduro.