According to UK Police Teresa May Is Less Than Honest
According to UK Police Teresa May Is Less Than Honest by Matthew Weaver and Helen Pidd for The Guardian
No link between knife crime and police cuts, says Theresa May
Met police say they cannot 'magic officers out of thin air' to deal with rise in stabbings
Theresa May has dismissed claims that an increase in police numbers will help solve knife crime, insisting there is "no direct correlation" between the two.
Speaking after a spate of knife violence, the prime minister said she would tackle the root causes of the crisis. However, as police officers and politicians called for more help to deal with the problem, May said it was not a question of resources.
There was "no direct correlation between certain crimes and police numbers", the former home secretary said. "What matters is how we ensure that police are responding to these criminal acts when they take place, that people are brought to justice."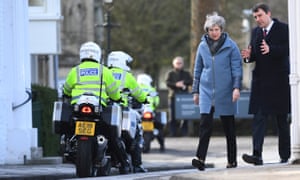 However, the home secretary, Sajid Javid, responding to an urgent question in the House of Commons on Monday, said police must be given the resources to tackle violence.
Javid, who will chair a meeting of police chiefs on Wednesday to discuss the issue, said he would launch a consultation on making the fight against violent crime a statutory public health duty, urging all parts of the public sector to prioritise it.
May's remarks will frustrate critics who say cuts to police and youth services are a key factor in knife crime. The Metropolitan police said they could not "magic officers out of thin air" to tackle the problem.
In a thinly veiled plea for more resources, the deputy assistant commissioner Graham McNulty pointed out police shifts have had to be extended after a series of knife attacks, including the killing of Jodie Chesney, 17, on Friday. [emphasis added]