Venezuela Aid Trucks Set Ablaze As Maduro Tells Trump: "Yankee, Go Home"
Venezuela Aid Trucks Set Ablaze As Maduro Tells Trump: "Yankee, Go Home" from ZeroHedge
Update 2: True to his word, it appears the humanitarian aid trucks being sent from the west into Venezuela have been repelled by Maduro's guards as reports come in from social media that they are all now on fire.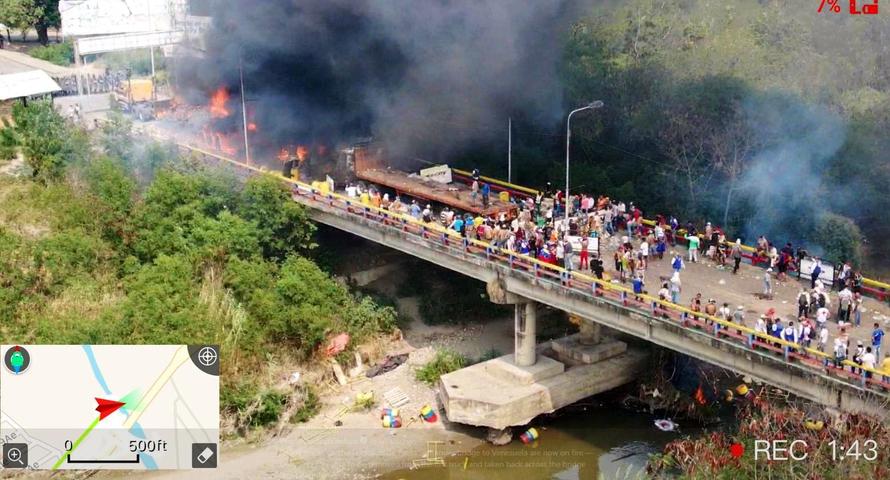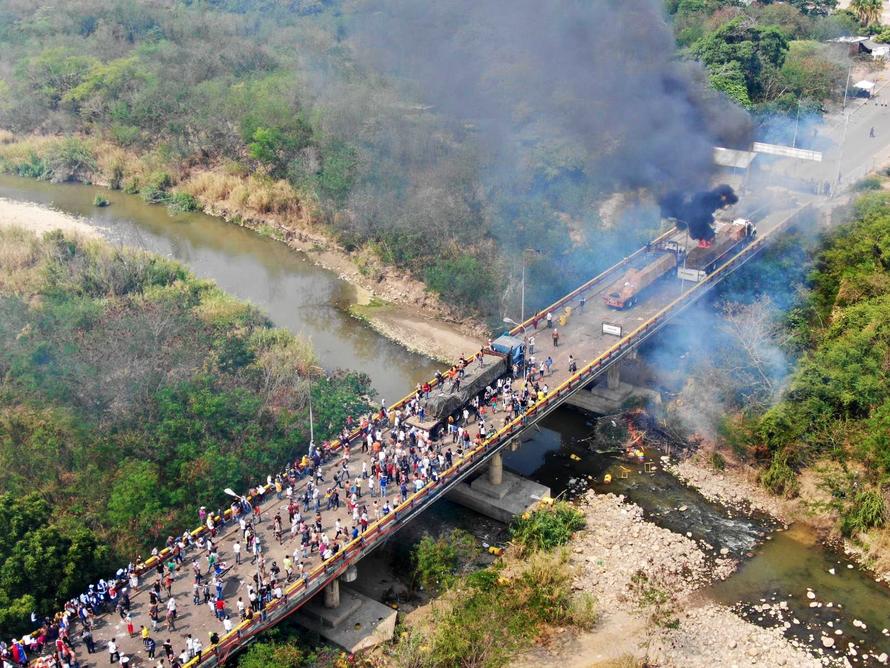 Thousands of Venezuelans are peacefully gathering near La Carlota Air Base in Caracas, demanding the Venezuelan military support democracy & the delivery of humanitarian aid. A stream of military officials have decided to stand by the people & against Maduro throughout the day. pic.twitter.com/1zKQHBn6DL

— John Bolton (@AmbJohnBolton) February 23, 2019
This is the barbarism that @aoc and @BernieSanders and @IlhanMN support. These are the wages of socialist tyranny https://t.co/PxwBk2l4S4

— Dinesh D'Souza (@DineshDSouza) February 23, 2019
Update 1: President Maduro addressed the nation on state-owned television, urging his supporters to revolt if he is harmed and telling Trump "Yankee, go home!" Headlines from the speech include (via Bloomberg):
*VENEZUELA'S MADURO SAYS HE WILL HOLD POWER FOR MANY YEARS
*VENEZUELA'S MADURO SAYS HE'S NO 'PUPPET OF THE EMPIRE'
*VENEZUELA'S MADURO: TRUMP, DUQUE DON'T DECIDE FOR VENEZUELANS
*MADURO: VENEZUELANS ARE DEFEATING U.S. COUP ATTEMPT
*MADURO: GUAIDO SHOULD CALL ELECTIONS IF HE IS PRESIDENT
*MADURO: PROTESTERS INCITING VIOLENCE ARE GOING TO PRISON
*VENEZUELA'S MADURO SAYS HE WILL GUARANTEE SECURITY ON BORDER
*VENEZUELA'S MADURO: GOVT HAS PLANS FOR ALL POSSIBLE SCENARIOS
*VENEZUELA'S MADURO TELLS PRESIDENT TRUMP: 'YANKEE GO HOME'
*VENEZUELA MADURO CALLS ON SUPPORTERS TO REVOLT IF HE IS HARMED
*VENEZUELANS SHOULD RESOLVE OWN PROBLEMS, MADURO SAYS
*VENEZUELAN HUMANITARIAN AID SEEKS U.S. INVASION, MADURO SAYS
President Trump has been quiet so far on Twitter, offering just this earlier today:
God Bless the people of Venezuela!

— Donald J. Trump (@realDonaldTrump) February 23, 2019
UPDATE One of the humanitarian aid trucks has just been lit on fire on the Francisco de Paula Santander bridge between Colombia and Venezuela. Our WCK team is safe in Cúcuta and not on the bridge. #Venezuela #AyudaHumanitaria pic.twitter.com/ahsqn8lMZV

— WorldCentralKitchen (@WCKitchen) February 23, 2019
*  *  *
As we detailed earlier, unrest in Venezuela is intensifying at border crossings with Colombia after embattled President Nicolas Maduro declared the borders with both Colombia and Brazil closed late this week, and after violence at a town near the border with Brazil left two dead and 17 injured when national guard soldiers opened fire on a group of civilians  attempting to keep open a segment of the southern border with Brazil for deliveries of humanitarian aid.