'Mr. Heater Buddy' for Winter Survival Preparedness
'Mr. Heater Buddy' for Winter Survival Preparedness by Ken Jorgustin for Modern Survival Blog
During the winter, I always reevaluate my emergency backup heat sources for my home. I run through the scenario of a power outage, especially one that might last longer than just a few hours.
Why? To be sure that I have adequate sources of backup heat for keeping warm – other than my main source of home heating.
MR. HEATER BUDDY
One product that I discovered (and purchased) is the 'Mr. Heater Buddy' (pictured above). Although having several of these is not my only source of backup heat, I have found them to be quite effective (and portable) for winter preparedness emergencies and peace of mind!
It's a portable propane heater – indoor safe for home, cabin, garage, workshop, tent, trailer, rv, greenhouse, porches, patios, hunting blinds, etc..
(See below for how long it will run on a 20 pound tank or 1 pound cylinder of propane)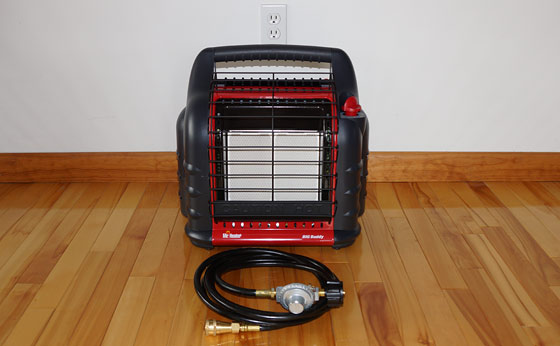 Regardless of whether you heat with oil, natural gas, LP, or electric, chances are that somewhere in the heating system is a device that requires 120-volt electrical power to operate. This might include components such as a blower fan, pumps (oil pump, water circulation pumps), electronic igniter, thermostats, etc..
THE POWER MIGHT BE OUT LONGER THAN YOU THINK
Having said that, a common severe winter storm scenario involves electrical power outages caused by storm damage.
A power outage during a winter storm (especially an ice storm) will often last longer than you might expect due to the poor weather conditions and getting crews out there to begin repairs (getting through the snow and ice, cutting trees, limbs, repairing lines, etc.).
Most every home heating system today requires electricity, regardless of it's fuel source (except a wood stove…).
The 'Mr. Heater Buddy' portable heater will function without electricity and will operate during a power outage.
-->