The State of the American Debt Slaves, Q4 2018
The State of the American Debt Slaves, Q4 2018 by Wolf Richter – Wolf Street
Consumers are doing their job only in a lackadaisical manner. But the student-loan scheme is hot.

It's a tough job, but someone's got to do it: Propping up the massive US economy. And consumers are doing it, but in a somewhat lackadaisical manner when it comes to spending money they don't have. Consumer debt – more enticingly, "consumer credit" similar to "extra credit" – rose 4.7% in the fourth quarter 2018 compared to the fourth quarter last year. In the year 2018, Americans added $179 billion to their balances on their credit cards, auto loans, and student loans. Every dime was spent and added to GDP. It amounted to nearly 1% of GDP. If GDP grew 3.1% in 2018, just under one third of the growth was generated by that additional consumer debt.
Without this additional consumer borrowing, if consumers had just maintained their debt levels, GDP growth might only have been 2.2% in 2018, instead of 3.1%. So, a huge round of applause is due our debt slaves that now owe over $4 trillion for the first time ever, according to the Federal ReserveThursday afternoon: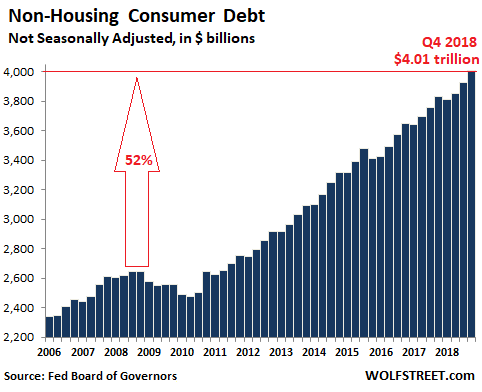 Consumer debt includes auto loans, student loans, credit-card debt, and personal loans, but it excludes housing related debt, such as mortgages and HELOCs.
The $4.01 trillion in consumer debt is up 52% from the peak early in the Financial Crisis in Q3 2008. This is not adjusted for inflation. Over the same period, the Consumer Price Index rose 16% and nominal GDP rose 39%. Thus, Americans are sticking to their time-honored plan of out-borrowing both inflation (by a big margin) and economic growth.
Over the past 12 months, consumer debt rose by 4.7% while nominal GDP likely rose just over 5% (due to the government shutdown, Q4 GDP data has not been released yet, so I'm guessing). But nominal GDP outgrowing consumer credit growth is a rare phenomenon. The last time it occurred, and the only time since the Great Recession, was from Q1 through Q3 2015.