Larry Parks: Financial sector calls gold "shiny poo" because it pays no fees to them (Podcast)
Larry Parks: Financial sector calls gold "shiny poo" because it pays no fees to them Podcast by Mike Gleason – Money Metals
Coming up Larry Parks of the Foundation of the Advancement of Monetary Education joins me for an eye-opening discussion on our nation's growing monetary problems and what you can do to help in the vital cause of bringing gold back into the nation's consciousness. Larry also talks about the massive dangers our nation's pension funds are facing. Don't miss a must-hear interview with Larry Parks, one of the foremost experts on sound money, coming up after this week's market update.
Gold and silver markets are pulling back a bit this week on the heels of U.S. dollar strength.
The dollar is benefiting from weakness in European currencies. Brexit uncertainties and downbeat economic forecasts for the European Union are weighing on the euro.
The corresponding dollar rally helped pull gold prices back down near the $1,300 support level in early trading Thursday. As of this Friday recording, gold trades at $1,314 an ounce – down a slight 0.3% for the week. Silver checks in at $15.79 to post a weekly decline of 0.9%. Platinum prices are off 3.5% to come in at an even $800. And finally, palladium is showing impressive relative strength, yet again – up 2.6% this week to bring spot prices to $1,396 per ounce.
As for the stock market, it sold off mid week on fears over potential trade wars with China. President Donald Trump's State of the Union Address touted new tariffs being imposed on Chinese goods.
It's the nature of these types of speeches that are typically filled more with platitudes and applause lines than policy specifics. This speech was no exception. Nevertheless, President Trump gave some important clues to investors – both in what he said and in what he didn't say – about where he wants to take the country heading into 2020.
The speech was clearly intended to broaden his support ahead of his presumptive re-election bid. It contained appeals to conservatives, libertarians, liberals, moderates, nationalists, and globalists alike. Of course, it's sometimes difficult to know where he actually stands – even on his core issue of immigration.
We still don't know what kind of deal Trump is willing to accept in order to avoid another government shutdown – or whether he's serious about declaring a national emergency. He has repeatedly dangled offers of amnesty to Democrats while getting no offers of wall funding in return.
In his State of the Union address, he raised eyebrows by saying he wants foreigners to come to the United States "in the largest numbers ever" as long as they do so legally. Yet Trump himself has often hammered on the existing immigration laws as being bad for America. We have to wonder if he now wants more people from around the world to take advantage of those laws.
Trump reiterated his calls for getting tougher on illegal alien crime in particular. Yet he also took credit for a criminal justice reform bill that goes softer on African-American criminals in particular.
He called for the U.S. to wind down its military commitments in the Middle East in an ode to America First non-interventionism. Yet he also touted the recent neo-conservative led intervention in Venezuela that aims to impose regime change on the socialist government there.
Trump declared that America will never become a socialist country like Venezuela – or like what Bernie Sanders and Alexandria Ocasio-Cortez aim to implement.
President Trump: Here in the United States, we are alarmed by the new calls to adopt socialism in our country.

America was founded on liberty and independence, and not government coercion, domination, and control. We are born free, and we will stay free.

Tonight, we renew our resolve that America will never be a socialist country.
Trump championed the ideals of liberty standing against the forces of statism. Yet he also laid out a spending agenda that will grow the size of government relative to the economy.
From curing childhood cancer and stopping AIDS, to embarking on the Women's Global Development initiative, to outspending Russia and China on weapons technology, to undertaking massive new infrastructure projects… Trump's re-election strategy seems to be to spend big or go home.
He is likely to get Democrat support for a big infrastructure package. That could be the most significant legislation in this Congress for investors. The construction of roads, bridges, dams, pipelines – and perhaps even a partial border wall – will benefit stocks involved in construction and basic materials. Rising demand for concrete and base metals could lift commodity prices more broadly.
Longer-term, investors should be concerned about a certain four-letter word that the President failed to utter even once during his State of the Union Address. It's a word that represents about five times what the government will spend this year. That unmentionable word is "debt" – as in the $22 trillion official national debt.
It is growing at an alarming pace, thanks to a projected trillion dollar budget deficit for this year. The Congressional Budget Office recently put out a report warning of "significant negative consequences" to our economy and standard of living from an unchecked rise in the debt to GDP ratio.
But since voters don't immediately see or feel those negative consequences, politicians will keep kicking the can down the road. And the Federal Reserve will stand ready to bail them out when the time comes with its unlimited digital-dollar printing press.
Well now, without further delay, let's get right to this week's exclusive interview.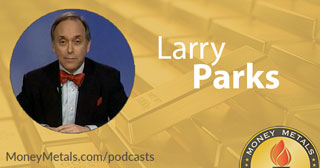 Mike Gleason: It is my privilege now to welcome in Lawrence Parks, founder and executive director of the Foundation of the Advancement of Monetary Education. Larry has dedicated much of his life towards the study and promotion of sound money, having author articles that have appeared numerous times in publications like The Economist, The Washington Times, National Review,and The Wall Street Journal just to name a few. He even hosts a weekly TV show that airs on cable networks in the Manhattan area called "The Larry Parks Show". He is given expert testimony in Washington to the United States Congress on monetary policy. He's a real champion for sound money, and it's great to have him on with us today.
Larry thanks for the time and welcome. It's good to talk to you.
Larry Parks: It's a pleasure. Thank you for hosting this.
Mike Gleason: Well Larry, to set the stage here briefly give us some background about the Foundation of the Advancement of Monetary Education and what motivated you to take the helm of the organization nearly 25 years ago, let's start there.