Mexico's Cash Cow: Remittances from the US & Other Countries Surge to New Record
Mexico's Cash Cow: Remittances from the US & Other Countries Surge to New Record from Wolf Street
These workers are a lifeline for Mexico's economy.
By Don Quijones, Spain, UK, & Mexico, editor at WOLF STREET.
The total amount Mexico received in "remittances" — transfers of money by workers of Mexican descent mostly in the US but also other countries to individuals in Mexico — surged by 10.5% in 2018 to $33.4 billion, the highest figure registered since records began, back in 1995, and beating the prior records set in 2016 and 2017, according to the Bank of Mexico.
Note the six-year downtrend that kicked off in 2007 with the Financial Crisis, the US housing bust, and the US housing construction downturn: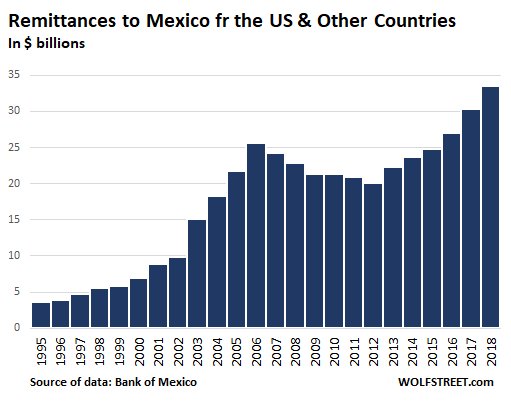 The cash remittances are a lifeline for Mexico's economy, accounting for 2.7% of Mexico's GDP, up from 1.9% in 2009. Most of them get spent very quickly in the Mexican economy. In some Mexican states, they can represent as much as 10% of total revenues. In 2018, they provided more funds than the $29.3 billion in export revenues that state-owned oil company, Pemex, obtained from its exports of crude oil and other hydrocarbon products, and they provided more funds than foreign direct investment in Mexico ($30.7 billion).
The last year saw a surge in both the number of transactions made as well as the average amount sent in each transaction, according to the Bank of Mexico. Here are some standouts for 2018:
104 million transactions were executed, almost six million more than in 2017.
Around 95% came from workers in the US — American citizens of Mexican extraction or Mexican citizens in the US legally or illegally.
The average size of remittance in 2018 was $322, compared to $309 in 2017.
98% of the remittances were sent by electronic fund transfer.
2% were dispatched by money order ($173 million) or arrived in the form of cash and cash-like instruments ($612 million).
Another record was set: the $3-billion monthly threshold was crossed for the first time ever, and twice, in May and June.
A number of factors have been put forward to explain the recent surge in cash transfers from Mexicans living abroad, including the improving US labor market, particularly in the construction sector, and a weakish peso.