Venezuelan Opposition Continues to Gather Momentum
Venezuelan Opposition Continues to Gather Momentum BY LUKE TAYLOR – The Epoch Times
Optimistic protesters fill streets across Venezuela to demand Maduro's exit
BOGOTA, Colombia—Tens of thousands of protesters took to the streets of remote towns and metropolitan cities across Venezuela on Feb. 2 to call for the resignation of Nicolas Maduro, who is facing growing pressure to step down as president.
Despite suffering widespread food and medicine shortages alongside persistent power and water cuts, the scenes were of jubilation rather than despair. Crowds jumped up and down in streets and metro stations across Caracas waving the country's tricolor flag and singing Venezuela's national anthem lifted by a growing sentiment that the military-backed government could be in its last days.
"Today, thanks to the support of the international community, hope flourishes in all of us and we expect a change in our country soon. Please, don't abandon us," said Vanessa Lloreda, 35, who took to the streets of Caracas to march for the restoration of democracy.
"There is light at the end of the tunnel," said a cheery Francisco Lucena Bravo, 64, in Los Toques, 15 miles from Caracas. "Men, women, the elderly, children, and people of all social classes are united for this cause. This must end soon."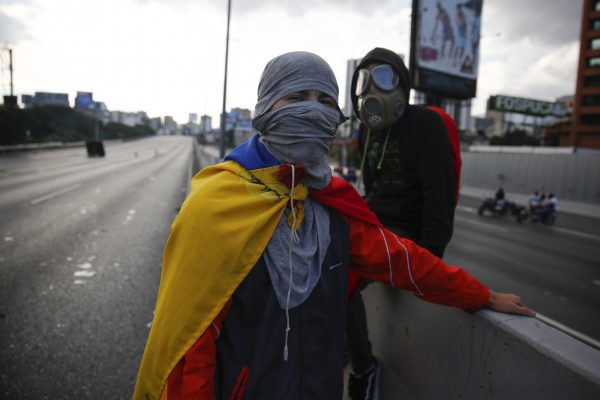 Maduro simultaneously drew his own big crowd in central Caracas for the 20th anniversary of the Bolivarian—a socialist movement founded by the late Hugo Chavez—where he denounced what he called foreign violation of the nation's sovereignty. "How long are they going to hurt the country? Enough of all the damage they've done to our country," he told loyal crowds.
The country is currently embroiled in an international power struggle with leader of the opposition and national congress, Juan Guiadó, having sworn himself in as interim president on Jan. 23 to the instant recognition of most Western nations including the United States.