Gold Price Marching Higher Into February
Gold Price Marching Higher Into February by Jim Curry – Gold-Eagle
Last week's action saw gold forming its low for the week in Monday's session, here doing so with the tag of the 1296.50 figure (February, 2019 contract numbers). From there, a sharp rally was seen into late-week, with the metal running all the way up to a Thursday peak of 1325.40 – before backing off the same into Friday's close. Note, we now move to the April, 2019 contract for our numbers and continuous contract data.
Gold Near-Term Picture
As pointed out in past articles for Gold-Eagle, the most recent correction was deemed to be a countertrend Elliott wave '4' decline, which was came due as a result of the 10, 20 and 34-day time cycles, but with a particular focus on the larger 34-day wave – which is the most dominant short-term cycle in the gold market: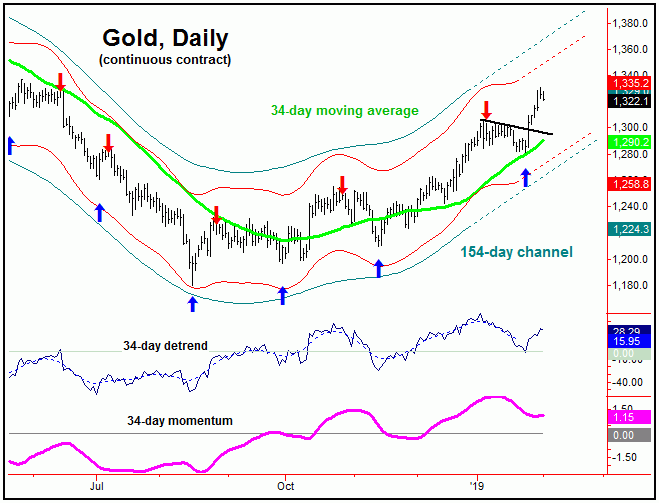 Going further with the above, if the decline into the most recent 34-day trough is an Elliott wave 4, then we are now in wave '5' to the upside – one that should eventual peak the metal at some point this month, with a precise timeframe for this to occur noted in our Gold Wave Trader report. In terms of price, the overall assumption was that the recent decline would be followed by a push up to the 1311-1349 region (February, 2019 contract numbers), which we have now seen met with the action from last week.
The Mid-Term Outlook
As noted above, the recent decline with the 34-day cycle was expected to end up as countertrend – as it did – and with that was expected to give way to higher highs into the current month of February, which it is now doing. The current move up is expected to give way to the next mid-term peak for the metal, with that peak coming from the 154-day cycle: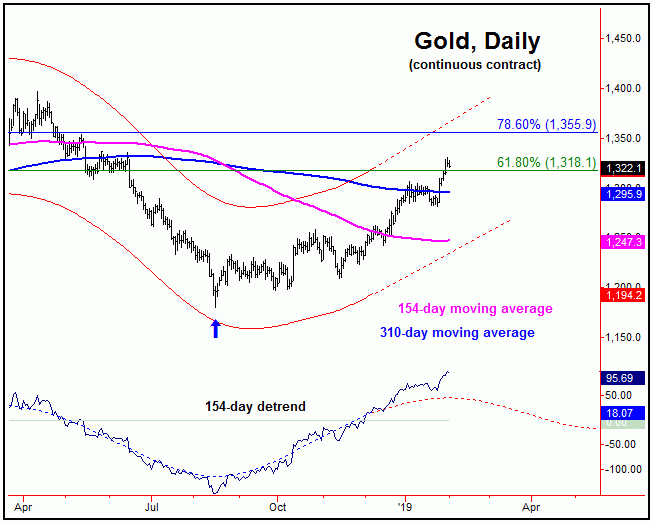 Right now, it is too early to suggest where the next mid-term top will come from in regards to price. Having said that, the next key resistance figure for gold comes in at the 1355 figure, if tested, which is the 78% retracement of the prior downward phasing of the 154-day cycle (April, 2019 contract numbers). Going further, that number (plus or minus) is also at or near the upper (and extrapolated) 154-day cycle channel. The current upward phase of the smaller 34-day wave should top this 154-day cycle, as well as a middle wave, the 72-day component.