EXCLUSIVE: In Closed-Door Testimony, Papadopoulos Identified Alleged Spy in Trump Campaign
EXCLUSIVE: In Closed-Door Testimony, Papadopoulos Identified Alleged Spy in Trump Campaign BY IVAN PENTCHOUKOV – The Epoch Times
Former Trump campaign adviser also told lawmakers FBI asked him to wear a wire to record Maltese professor in London
George Papadopoulos, the former foreign policy adviser to Donald Trump's presidential campaign, revealed during a closed-door interview with congressional lawmakers in Washington the name of the man he believes was a spy working within the campaign, according to a transcript of the testimony reviewed by The Epoch Times.
During a day-long session with lawmakers on the House Judiciary and Oversight committees on Oct. 25, 2018, Papadopoulos, under penalty of perjury, detailed a series of what he described as "strange" interactions with a member of the Trump campaign. The timing and content of that person's communications led Papadopoulos to suspect that the person was covertly working on behalf of U.S. intelligence.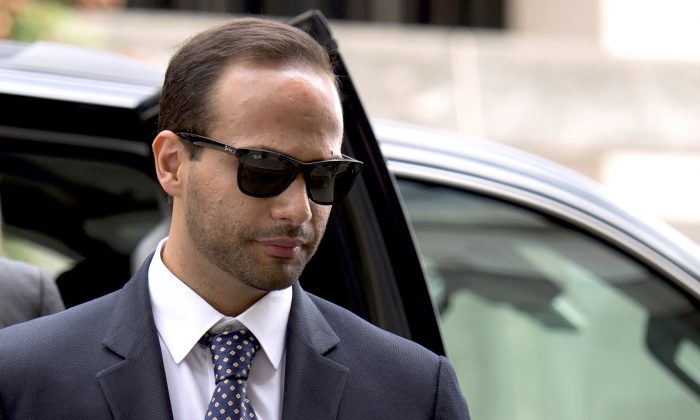 Papadopoulos previously hinted in public statements and interviews that he knew of a spy in the Trump campaign, but never revealed the person's name. Fusion GPS co-founder Glenn Simpson also has said the FBI had a "human source" inside the campaign.
When asked about the person who Papadopoulos alleged is a spy, another former Trump campaign member told The Epoch Times that he has no such suspicions about the man in question. The Epoch Times was unable to verify the allegation made by Papadopoulos and is withholding the name he provided to Congress. In this article, we refer to him as Person A.
"My interactions with [Person A] were quite strange. You know, he would call me on private numbers and kind of ask me where I'm sitting, or where I'm living at the moment," Papadopoulos said.
Asked on Jan. 16 by this reporter if he's still suspicious about the person, Papadopoulos said he is "definitely suspicious of him."