In Humiliating Defeat For May, Brexit Deal Rejected By Overwhelming 230-Vote Margin
In Humiliating Defeat For May, Brexit Deal Rejected By Overwhelming 230-Vote Margin from ZeroHedge
Update 8: Steve Baker, director of the Brexiteer faction in the European Research Group, has met with May to lay out what is presumably their preferred alternative to May's Brexit plan.
A temporary free-trade agreement only about the movement of goods, which wouldn't need the ratification of the EU's 27 members A temporary zero tariff on some imports from the EU in order to keep food prices down The U.K. could withhold some or all of its 39 billion-pound annual contribution, as it is not in an implementation period May's government could force the measure through by secondary legislation to an existing act of Parliament or amend future legislation
Meanwhile, amid the chaos in the aftermath of Tuesday's vote, this quote reportedly used by Winston Churchill to mock Americans is once again being thrown around to mock the fractiousness in May's conservative party.
"You can always count on them to do the right thing – after they have tried everything else."
* * *
Update 7: In a silver lining for May, the DUP has said it will back May in Wednesday's no confidence vote, meaning that the only way for the opposition to topple the government would be for a number of Tory rebels to side with Labour which is…unlikely.
* * *
Update 6: Comment from European leaders are starting to break on  twitter, with the Austrian PM insisting that, though the defeat of the deal is unfortunate, there won't be a renegotiation of the deal.
In one of the more aggressive comments, Donald Tusk seemed to imply that, if the deal is so unpopular, maybe the UK should reconsider this whole Brexit thing.
If a deal is impossible, and no one wants no deal, then who will finally have the courage to say what the only positive solution is?

— Donald Tusk (@eucopresident) January 15, 2019
The pound has broken above $1.28.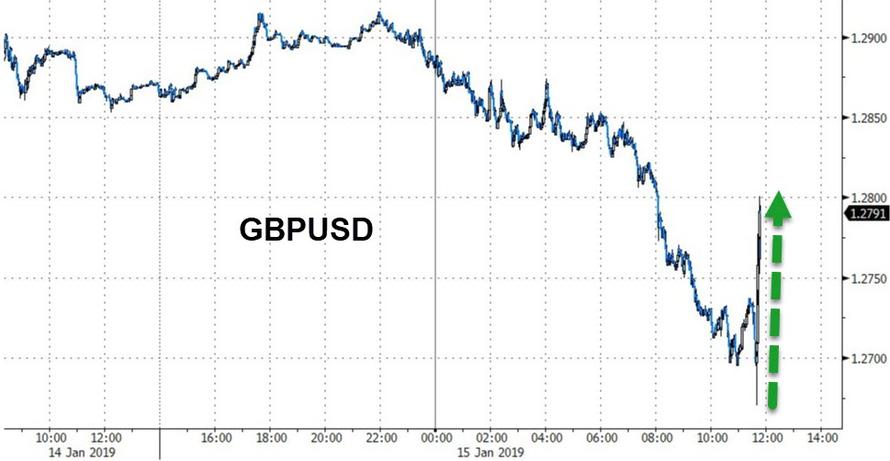 * * *
Update 5: The pound kneejerked lower, but swiftly recovered as traders realized that the overwhelming defeat means the EU may now reconsider its decision not to reopen negotiations.