Gold Prices Face The Wall
Gold Prices Face The Wall by Christopher Aaron – Gold-Eagle
Walls have been in the news a lot lately. Walls which may be built, walls which may not be built.
Yet for all the talk of walls these days, there is one wall that precious metals investors should be focusing on foremost. And no, it has nothing to do with the southern US border.
Instead, the barrier we are referring to is the wall of sellers who will be showing up in the precious metals as gold approaches $1,300 per ounce.
What are we referring to, specifically?
Let us examine the visible data.
Gold Has Been Strong
For the week ended Friday, January 4, gold finished higher by $4 or 0.3% to close at $1,285 as of the final trade on the New York COMEX futures exchange. On Thursday night, the precious metal touched $1,300 before backing off by the end of the week.
Gold is now up 10% or $117 from its recent August low of $1,167.
With this recent strength evident, why do we believe that a large influx of selling is soon to emerge? What is this wall of sellers who will prevent gold from rising significantly above $1,300 over the months ahead?
They are contract holders from the 2018 peak – and there are lots of them.
2018 Peak – Highest Volume of All-Time
It is not simply that there many contract holders who purchased gold during the 2018 peak, but more specifically: 2018's top saw the highest volume of contract holders ever witnessed in the history of gold trading. Ever.
Let us examine the chart: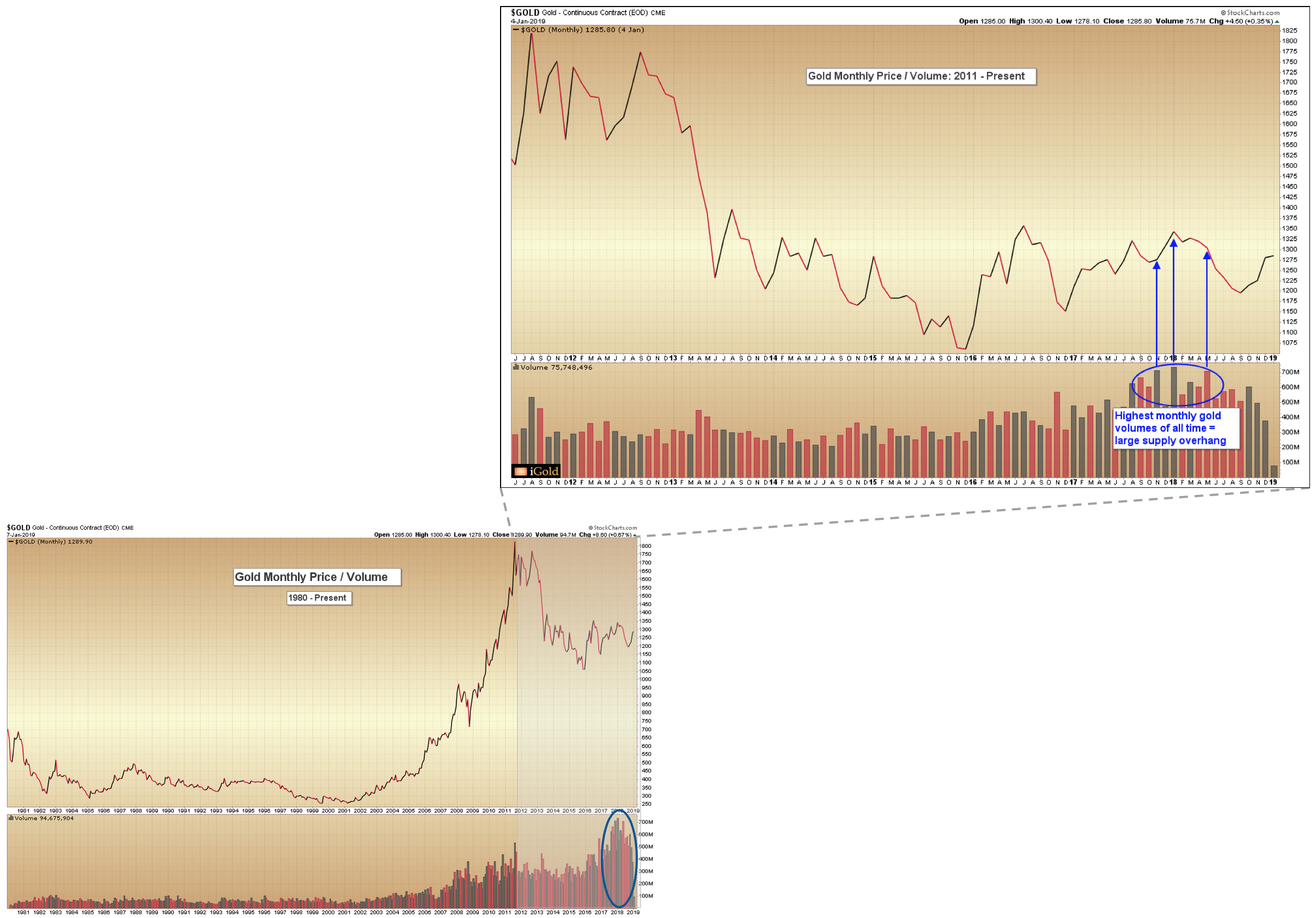 2018's top was not a single-day high-volume reversal, as was seen, for example, on the night of Trump's victory in 2016. No, this was a grinding affair lasting 5.5 months between January and mid-May featuring the highest sustained monthly volumes of all time.
Why do we believe so many contract holders will be selling now, as gold approaches $1,300 again? Because this record-breaking volume occurred at a relative peak for gold prices. In other words, a record number of traders who purchased gold above $1,300 in early 2018 have been underwater ever since. And so, when the price returns to near their break-even points, what is the one thing that most these traders are going to be relieved to do?