Organ Trafficking Co-Conspirators – A Worldwide Epidemic
Organ Trafficking Co-Conspirators – A Worldwide Epidemic by Corey Lynn – Coreys Digs
Organ trafficking is an undeniable worldwide issue that has been around since pharmaceuticals were first introduced in 1970 to prevent organ rejection, and quite possibly even earlier. The numbers speak for themselves, and unfortunately, the numbers paint a picture of just how many people are either sacrificing their organs for cash to survive, or being kidnapped and having them removed from their bodies, leaving them for dead. So who are the co-conspirators involved in these schemes? Read on, it gets pretty in depth, and you will most certainly recognize some of the names.
In 2007, WHO (World health Organization) estimated that out of all transplants worldwide, 5–10% were conducted illegally. In 2011, it was estimated that the illicit 'organ trade' generated illegal profits between USD 600 million and USD 1.2 billion per year.
There are over 110,000 patients on the national waiting list for organ transplantation and in 2016, only about 33,000 organ transplants were performed. In the United States alone in 2016, there were 19,057 kidney transplants, 7,841 liver transplants, 3,191 heart transplants, and 2,327 lung transplants performed (that were documented). Kidneys are the hot ticket item and as we can see by the map below, it's obvious who is benefiting from organ trafficking.
The price of a kidney or heart can fetch anywhere from $15,000 USD to $200,000 USD depending on the recipient and country of destination.
It's Happening All Over The World at Alarming Rates:
"We have accurate information that over 25,000 surgical operations have been conducted in the refugee camps of the neighboring countries and in the terrorist-controlled areas in Syria since 2011 to take out the body organs of 18,000 Syrians and sell them in the international black markets." – Dr. Noufel
Huffington post 2010: Haitian Prime Minister Jean-Max Bellerive talked to the CNN's Christiane Amanpour about the unsettling reality of trafficking of human organs from victims in the wake of the earthquake that struck a few weeks ago.
"A lot of organizations – they come and they say there were children on the streets," Bellerive said. "They are going to bring them to the States — we have already reports of trafficking, even of organ trafficking."
Also in Haiti:
In 2016 – 59 dead bodies were found with missing organs in the small town of Thomazeau, in northern Haiti. It was kept from the public and never reported about. My source tells me they found them dumped in the woods. People in the area found them and called the Justice of the Peace to make a report, but the story was buried. There is a famous dumping ground for dead bodies in Haiti called Titanyen. Hundreds of thousands of bodies were dumped and buried in a mass grave after the earthquake. Most likely the bodies from Thomazeau were also dumped there.
This non-graphic, 8-minute video compilation provides an inside understanding as to why they target the people they do, who does it and how they do it. It concludes with a statement at 7:30 from Jean-Max Bellerive, former Haitian Prime Minister, regarding organ harvesting in Haiti.
Daily Mail: A Human Harvest: China's organ trafficking exposed in shocking documentary that alleges the illegal trade is now worth a staggering US $1 billion a year
Illegal Kidney trade flourishes as victims await justice
The case burst open last month, when Azam and his colleagues raided an apartment block in the city of Rawalpindi, just outside Islamabad, the capital, and found 24 terrified people — 20 men and four women — who were to be operated on at a nearby clinic.
He says some of these prisoners told him they'd been held there for four months. The doors were locked; the windows had bars. Prowling the streets below were "look-outs" making sure no one escaped, says Azam.
Manuel Plancarte Gaspar, 34, was captured last week in a stolen car that was also carrying crystal meth, one of the cartel's top sellers in the international drug trade. He was captured in the western state of Michoacan, where the Knights Templar rule and terrorize the citizenry.
In an unusual series of Twitter posts, Michoacan's Public Safety Secretary Carlos Castellanos Becerra announced the arrest of Gaspar "who belongs to a criminal group and is being investigated for the death of children, who drew their organs for sale."
Professors and Doctors Among 45 Arrested in Egypt Organ Trafficking Ring
Those arrested include Egyptians and foreigners engaged in a wide range of professions. Professors from some of Egypt's top universities, doctors, nurses, organ-buyers, and others are among those arrested.
So who's involved and who are the co-conspirators? Read on…

This is not a behind-the-scenes dark alley operation (generally). This is carried out by medical professionals involved in the highest level of black-market organ harvesting and trafficking. In some cases, people are offering to be a donor for cash because they are trying to survive, but in many cases people are kidnapped and left for dead. In either case, it requires a team:
Hospitals
Transplant surgeons
Anestheosologists
Nurses
Medical technicians
Medical labs
Brokers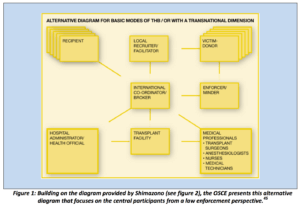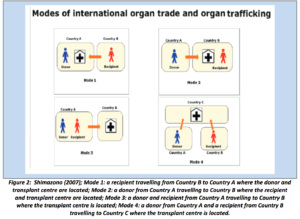 Could these be possible U.S. connections?

We already know that a good chunk of the recipients reside in the United States. Once the brokers find the match in other countries, they are either shipping the organs over or bringing the person to have surgery here. That means hospitals, surgeons, nurses, medical technicians and anesthesiologists are all involved in the transplant. Now this doesn't mean they are all complicit, but someone high up in these hospitals are allowing this to transpire. I cannot imagine a hospital not keeping track of where people and organs are coming in from and assuring this "match" was done through proper channels.
That being said, Florida Attorney Elizabeth Beck recently investigated some interesting connections with several people, deaths, the Mayo Clinic, St. Vincent's, Haiti, and the Clinton Foundation. These are the facts she presented. I will leave the speculation to you.
Transcript of Interview:
1) There is a Beranton Whisenant – Jay Plotkin – Jacksonville connection.
Jay Plotkin was the director of the State Attorney's Office in Jacksonville from 1993 to 2009. Until Janury of 2009 he supervised all aspects of an office of 100 attorneys and over 300 support staff.
Mr. Beranton Whisenant is actually not a Miami native, even though he worked there and passed away in Broward County in South Florida.
To the contrary, Mr. Beranton Whisenant is a native of Jacksonville Florida. He graduated from Bishop Kenney High School in 1997 and worked as an Assistant State Attorney with the 4th Judicial Circuit from 2004-2007.
In other words, Mr. Beranton Whisenant and Mr. Jay Plotkin worked in the State Attorneys Office at the same time.
2) There is a Jacksonville – Mayo Clinic connection.
The Mayo Clinic has a hospital in Jacksonville Florida.
3) There's a Mayo Clinic – Judge Harvey E. Schlesinger connection.
A lawsuit was filed in 2015 in Federal Court in Jacksonville against the Mayo Clinic in connection with an organ transplant case.
The judge presiding over that case was the Honorable Harvey E. Schlesinger.
CASE NUMBER: 3:15-cv-01244
4) There's a Judge Harvey E. Schlesinger – Jay Plotkin – Beranton Whisenant connection.
Jay Plotkin is judge Harvey Schlesingers' son-in-law.
Mr. Whisenant's body was recovered on May 24th, 2017. On June 8th, 2017 Judge Harvey E. Schlesinger threw out the case against Mayo Clinic in Jacksonville on Summary Judgement.
5) There is a Mayo Clinic – Clinton Foundation connection.
A number of hospitals, including Mayo Clinic and St. Vincent's co-sponsored a launch event in Northeast Florida in connection with the Clinton Health Matters Initiative.
6) There is a Mayo Clinic – High Government Officials connection.
The numerous public trustees of the Mayo Clinic include a Thomas J. Brokaw, (possibly Tom Brokaw) Barbara P. Bush, Richard B. Cheney (possibly Dick Cheney), Senator Thomas Daschle and Paul Volcker.
The Mayo Clinic provides a full range of health services including organ transplants, bone marrow transplants, blood transfusions and genetic medicine.
Sounds like an interesting place for people looking into life extension?