U.S. Postal Service Allegedly Canceled Christmas Stamps for Being Too Religious
U.S. Postal Service Allegedly Canceled Christmas Stamps for Being Too Religious by John Carney – Breitbart
TDC Note – And you thought the war on Christmas was real!!! At every turn we are reminded just how real the Spiritual war has become. If the leftist, marxist maniacs get their way….I don't even know what to think.
#####
Tavia Hunt was only looking to print some nice stamps for the family Christmas cards. But what she found might become a pivotal Supreme Court case testing the deep state's war against Christmas.
Lawyers for Hunt on Thursday sent a letter to the U.S. Postal Service demanding an explanation for a policy adopted in early 2017 that allegedly bars "all religious content" from being used on U.S. postal stamps, even those created privately through third-party printers authorized to create customized stamps.
A bar on religious imagery in stamps would be unconstitutional, according to Tavia's lawyers at First Liberty Institute, a legal group dedicated exclusively to defending religious freedom for all Americans.
Hunt is the wife of Clarke Hunt, the owner of the Kansas City Chiefs. Earlier this year she decided to have custom stamps made from a picture of her family taken in front of the easily recognizable onion-shaped minarets of St. Basil's Cathedral. It's a cute if familiar image: American tourists, standing in front of St. Basil's in silly fur hats. Hunt and two of her daughters are holding a flag reading "Chief's Kingdom" in the team colors.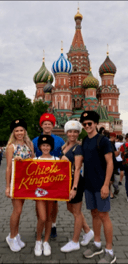 A few days after she had uploaded the photo to Zazzle, a company licensed to create customized stamps, Hunt learned that her order had been cancelled. The company said the image violated its content policy.
When Hunt asked Zazzle to clarify what was wrong with the image, she was told by a company representative that it was the prominence of the cathedral that violated the content policy. The company backed off of that position when Hunt said in an email that this appeared to be a "ban on religion." The next day it told her that her order was approved and would be shipped soon.