Seven Documented Examples: Clinton Foundation "Donations" / Political Favors Executed
Seven Documented Examples: Clinton Foundation "Donations" / Political Favors Executed BY SEAMUS BRUNER – The Epoch Times
TDC Note: This is an epic piece of evidence that deserves your undivided attention. #LockThemUp When I say "them" I mean the whole lot – Podesta, Schultz, Page, Yates, Lynch, the Obama's and all their flunky assistance and everyone involved.
####
The Clinton Foundation has raised more than $2 billion since its inception in 1997, and Bill and Hillary Clinton have been paid more than $150 million for delivering speeches. Notably, these payments increased dramatically after Hillary Clinton took office as secretary of state in 2009.
The tens of millions of dollars that flowed directly to the Clintons or their foundation, from foreign governments or other entities (or "benefactors") who could benefit from Secretary Clinton's actions, seem to pose inherent conflicts of interest.
The foundation is currently being probed by U.S. Attorney John Huber—who was assigned by then-Attorney General Jeff Sessions—for alleged wrongdoing.
"Mr. Huber with the Department of Justice and FBI has been having an investigation, at least part of his task was to look at the Clinton Foundation and what may or may not have happened as it relates to improper activity with that charitable foundation," Rep. Mark Meadows (R-N.C.) told The Hill on Nov. 20. A scheduled testimony by Huber before Congress was postponed in response to the funeral of late President George H.W. Bush.
Click on the infographic to enlarge. (article continues below)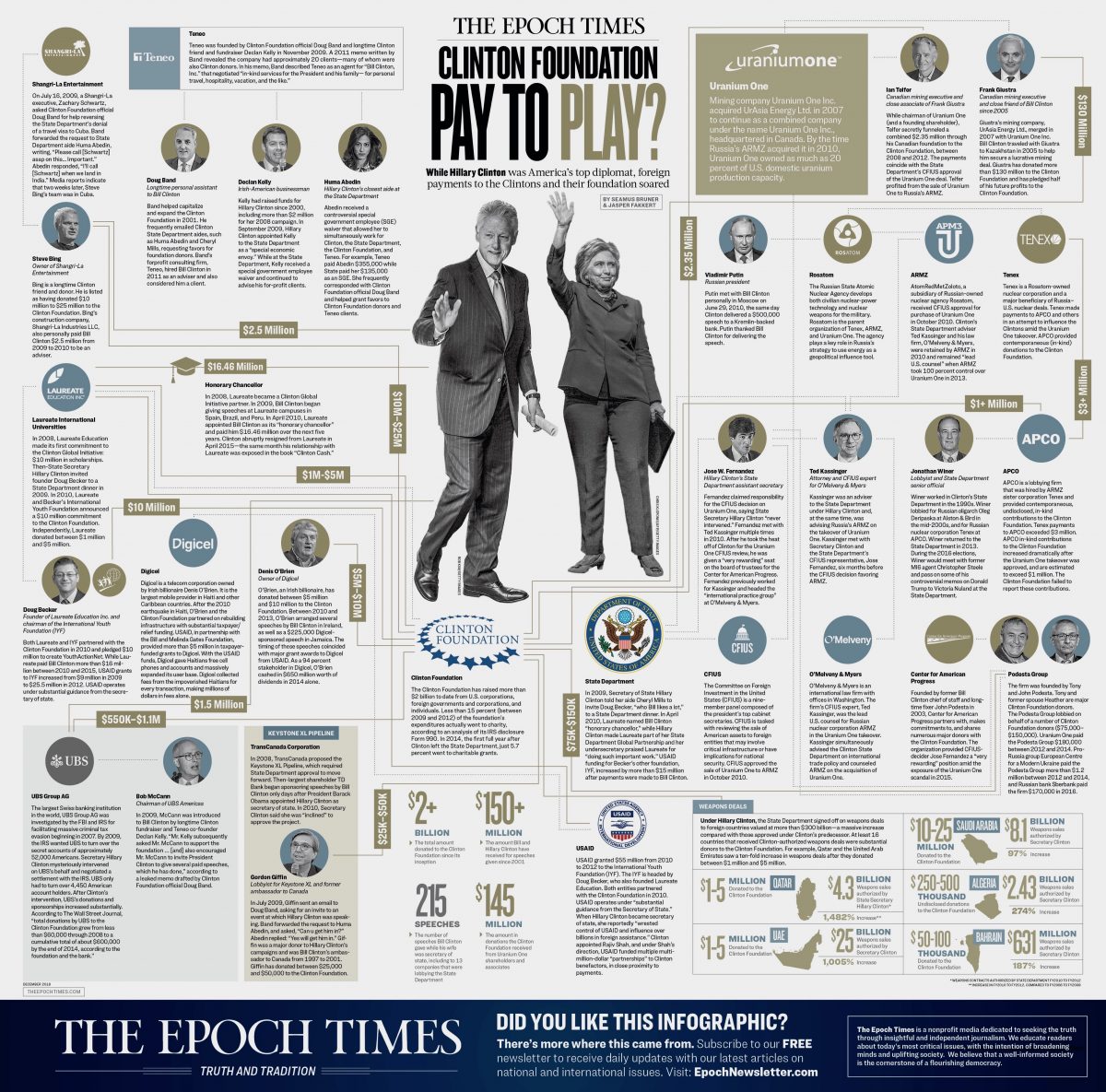 The Clintons' apparent conflicts were concealed and their potential culpability has been mitigated by several factors: the memorandum of understanding (MOU) reached with Obama's presidential transition team; special government employee (SGE) waivers; and the State Department's ethics review apparatus.
The MOU was an agreement between the Clinton Foundation and the Obama transition team that outlined certain requirements for Hillary Clinton's confirmation as secretary of state in 2009. The MOU identified a set of protocols that supposedly addressed concerns about possible foreign influence.
The foundation promised to observe these protocols—including, primarily, the increased and timely disclosure of payments. These essential requirements included the annual publication of Clinton Foundation donors and restrictions on donations from foreign governments.
The MOU satisfied lawmakers and the media, and Clinton was near-unanimously confirmed in January 2009. However, the MOU was violated almost immediately, and would be so repeatedly (in spirit and in letter) throughout Clinton's tenure. For example, from the beginning of Clinton's tenure in 2009, the Clinton Health Access Initiative (CHAI) never reported any of its foreign donors, as acknowledged by CHAI spokeswoman Maura Daley in 2015. Other significant violations include the failure to report donors annually, the failure to disclose foreign-government donations, and the failure to submit donations and speech payments for ethics reviews.
Absent the blanket immunity document, every payment to the Clintons from foreign entities with interests that Secretary Clinton could influence was, at best, a potential conflict of interest and, at worst, a bribe.
Clinton State Department's 'Special' Employees
In addition to the tens of millions in foreign funds that flowed to the Clinton Foundation, the Clintons received tens of millions of dollars in the form of Bill Clinton's speaking fees and consulting arrangements. Instead of these payments being reviewed by neutral or third-party ethics officials, they were reviewed by the State Department under Hillary Clinton and the process specifically involved longtime Clinton lawyer Cheryl Mills.